NBC Cancels Free Agents
Bye-bye, Hank Azaria.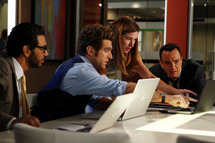 Say good-bye to another NBC fall show: The Peacock has pulled the plug on Hank Azaria's Free Agents after four airings. This is not at all a surprise, given that the show has underperformed each time it's aired. A special 10:30 p.m. sneak peek on September 14 drew just 6 million viewers, nearly half the number of lead-in Up All Night. It's been pretty much downhill ever since, with last night's episode attracting barely 3 million viewers and earning a mere 1 rating among those under 50. Eight episodes of the show were produced, but it's unclear if or when the remaining four half-hours will be broadcast. No word yet on a replacement, but NBC insiders said repeats of Whitney are a possibility. The network previously canceled first-year drama The Playboy Club; it's given full-season orders to Up All Night and Whitney. UPDATE: We've confirmed that Whitney will air in the Free Agents time slot starting next week.