Once Upon a Time Starts Off Strong
It has the biggest drama premiere of the season in the demo.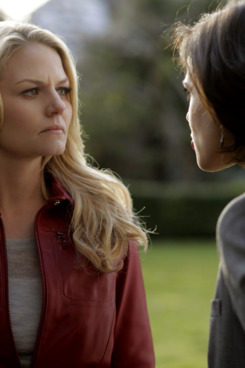 Mirror, mirror on the wall, what's the biggest drama premiere of them all? It looks like it's ABC's family-friendly fairy-tale fantasy Once Upon a Time, which debuted last night to an audience of 12.8 million viewers and an adults 18 to 49 rating of 3.9/12, according to early Nielsen data. That latter score qualifies as the best of this season's underwhelming crop of new dramas in the key demo of folks under 50, though CBS's Unforgettable and Person of Interest had bigger overall tune-in. But however you cut it, Once shined: Facing both the World Series and Sunday football, the show managed to grow 160 percent from its Funniest Videos lead-in and nearly doubled what Extreme Makeover: Home Edition debuted to last fall in the same time period. It also added viewers at the half-hour, a hopeful sign that audiences didn't run screaming from the out-there concept of real and fantasy worlds existing simultaneously. While it's too soon to declare Once a hit (though ABC's on-air ads almost certainly will), it does demonstrate that when a network wishes upon a star, and puts lots and lots of marketing dollars behind a show strategically delayed to premiere outside of the fall crush, Nielsen dreams can come true.