Why You Should Be Giving Prime Suspect a Chance
It's good!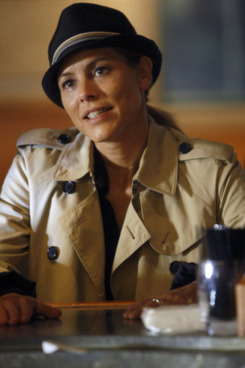 Yesterday, NBC ordered six more scripts of Prime Suspect, a slightly surprising development: Prime Suspect has not been doing well among viewers, and while critics haven't savaged it, they haven't been paying it much mind. Still, NBC doesn't have many options, and after canceling The Playboy Club, it already has one drama-size hole in its lineup. So based on a technicality, it seems that Prime Suspect will live on, at least in the short term. This news is heartwarming to the show's small audience, the fedora lobby, the "Helen Mirren is overrated club" (membership: zero), and me. I love Prime Suspect.
This is a great scene. First, there's Bello's outfit: The hat, the high-water pants. She even wears clothes like an athlete, all showboat. Then, there's her tone of voice when she says "Lucky," like luck has absolutely nothing to do with it, thank goodness. But it's also perfectly plotted: At the end of the episode, Jane gets the guy to confess by telling him his wife was pregnant when he killed her (she wasn't; Jane borrowed some sonograms), a play she must have thought up based on this strange conversation where the guy tipped off his interest in progeny, a chat he never would have had with a man: She's a smart one, this Jane Timoney. She may only be around for a little while longer. Why don't you give her a chance?