The Real Housewives of New Jersey Recap: The 'Attack Teresa Show,' Live Onstage!
And Andy Cohen gets in his own punches.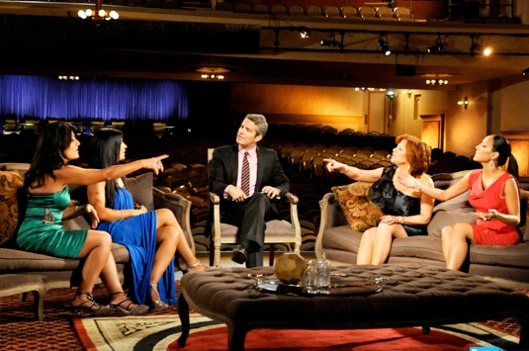 I'm going to be recapping these season-ending reunion shows for Andrea while she's on vacation. Since Andy pointed out the theme of this season is loyalty, I feel it's only right to try to sway you over to my side by telling you that I went on a frantic binge of watching The Real Housewives of New Jersey over the past two days to catch up in time for tonight's episode; I'm sure Andrea has never done this for you, which makes me the recap princess. Also, Andrea learned all about recapping from me, along with everything she knows about house flipping.
The last ten minutes is the Andy Cohen show. He just keeps hitting them out of the park. He asks Teresa if she and Juicy would've gone to jail if they hadn't declared bankruptcy fraud, and she denies it. His question about when she has to pay the eight million dollars she and Juicy owe is met with a shrug, and he responds, "Well, you should probably look into that, don't you think?" When she mentions rumors of alleged Picasso painting in her house worth $50,000, Andy interjects, "They'd be worth $50 million, and frankly you and Joe wouldn't be able to afford them." I'm feeling the most alert I have all night, and I'm already scheming ways to fix Andy up with Greg so he can be a regular on the show. The problem is, it would mean not fixing him up with another friend I'm convinced he would be perfect for, and I'm afraid my loyalty is going to have to lie with the real people in my life for the moment.