The Real Housewives of New Jersey Recap: Melissa Gets Her Moment to Be 'On Display'
Though we have to endure the conclusion of the inane Punta Cana adventures first.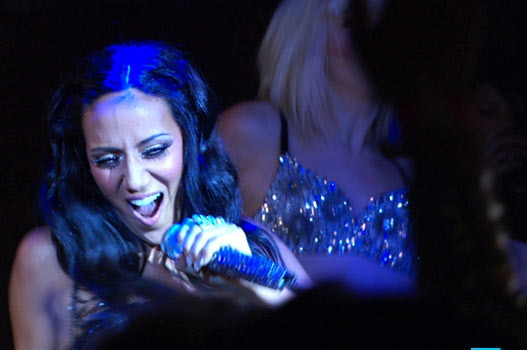 Real Housewives of New Jersey has taught me more about the nature of a vacuum in space than any of the demonstrations in my high school AP physics textbook. Witnessing a feather and marble drop at precisely the same rate in an empty bell jar had and has little resonance to me. But here's what will stick with me forever: Teresa's gold-sequined baby-doll cover-up. Melissa's Gucci stilettos on chicken-bloodied pavement. Joe Gorga blaming any and all of his shortcomings on ejaculate building inside him. Basically, this never-ending season of the show, which has erased all weight and mass and meaning so that every depicted event now drops with the same thud, and now traps us inside a recurrent dream where we can no longer breathe.
Then it's the moment that nobody's been waiting for. Mel comes out in her leatherish pants and her beaded belly-vest thing, and I don't know whether or not she sang live in person, but Bravo definitely has her lip-synching for the show. And hey, maybe that's the channel's gift to us after making us sit through a season that has felt twenty times as long as All My Children's entire run. So Mel gives a little J. Lo sexyface. She dances passably. She makes Teresa look unhappy. She gets Greg lip-synching in tandem. And after it's all over, she even spurs Joe Giudice to make a sudden, unexpected, shitfaced speech in her honor about how she has guts for getting up there and putting herself on display. And it seems that even Teresa has taken Melissa's incredible bravery to heart because she makes the bold move of going up to Kathy and asking her if they can talk outside. They kiss and make up for the time being, but the real joy in this scene is that the producers repeatedly cut back to cousin Rosie, who stands ominously in a nearby window moonlighting as Kathy's muscle. Our Rosie's got a scarf tied over her head, but on her it's got less of a pirate feel and more of an "I just finished my ride with the Hell's Angels" vibe. But if only for tonight, there are no asses to kick. The denizens of Franklin Lakes are at peace, united by a songbird, and so Rosie stays put, waiting for the moment when she will be needed. And the rest of us stare through the glass of our television sets, waiting for next week when this fucking season will finally, finally be over.