Why You Can Thank Modern Family for the Sitcom Renaissance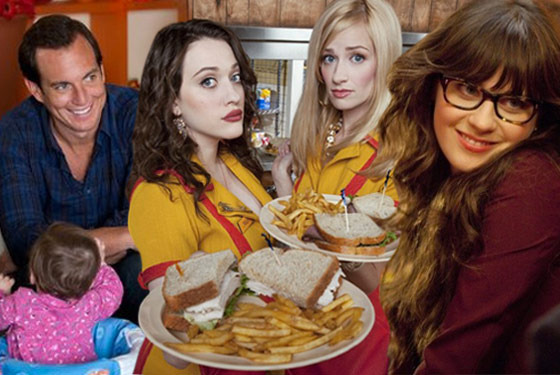 For the Chinese, this is the Year of the Rabbit; to the Jews, it's 5772. And for journalists covering the TV business? That's simple: It's the Year of the Sitcom! Early coverage of the 2011–12 small screen season's winners and losers has understandably focused on the fact that comedies such as New Girl, Suburgatory, and 2 Broke Girls seem to be doing far better than other kinds of programming this fall. This is what those of us who cover entertainment call a "trend," and as such, we feel a profound professional responsibility to dig deep and search our souls for the answers: Why laughter? Why now? This will almost certainly result in a dramatic uptick in articles featuring sprawling sociological theories supported by quotes from ubiquitous TV historian Robert J. Thompson and all manner of Hollywood insiders: People want to laugh in a down economy! Comedies only take 30 minutes to watch, and we're all too busy for dramas! We've found a funnier, totally new way to make comedies that's unlike anything you've seen before! But no matter how intelligently the stories are written, or how wise the talking heads doing the explaining might be, the bottom line about TV's alleged sitcom renaissance is much simpler. It's just not nearly as interesting.
To understand what's happening with comedies right now, consider how things often work in the movie business. After X-Men hit big in 2000, Hollywood decided to make Spider-Man and many, many more superhero movies. After audiences demonstrated a willingness to watch girls be gross in Bridesmaids, you could almost hear studio bosses shouting from their offices, "Get me the next Kristen Wiig!" TV is no different; it can just react to trends more quickly. And so, when ABC's Modern Family rocketed on to TV in 2009, networks suddenly started feeling sitcoms might be worth the risk again, as co-creator Steve Levitan told Variety last summer. "My guess is that programmers see the success of a show like Modern Family and it gives them the impetus, the appetite to program more comedies," he told the industry trade. This is why, post-MF, CBS decided to roll the dice and try half-hours on Thursdays; Fox chose to double down its efforts at finding live-action laughers by launching an hour-long post-Glee sitcom block; and this fall, new sitcom blocks have popped up on both Tuesdays (ABC) and Wednesdays (NBC). All told, that's eight new half-hour slots for comedy to try to gain a foothold with viewers. Since TV types love talking in sports metaphors, put it this way: More at-bats generally result in more runners getting on base, and with a little luck, more runs scored. Likewise, while producing lots and lots of comedies is no guarantee of success (NBC once programmed a massive eighteen sitcoms one fall), you're almost certainly going to up the odds of finding worthwhile new comedies by aggressively playing the game rather than sitting on the bench and hoping reality shows get you the win.
Where those of us who cover TV for a living tend to get into trouble is when we insist on autopsying the Nielsen numbers to find a magic formula for success (or, when sitcoms were atrophying, a cause of death). Back in 1999, Entertainment Weekly wrote a lengthy sitcom obit in which the late, great Larry Gelbart (M*A*S*H) declared the genre "over" because of "wall-to-wall cloning. It's as though we were still watching silent movies in black and white. It's as if we haven't advanced the form one bit." A valid observation, but barely a year after that comment, CBS debuted Yes, Dear, a sweet but completely derivative and boilerplate half-hour comedy that would go on to produce 122 episodes and last six seasons.
And lest this post appear too holier than thou, here's some full disclosure: Having
buried the sitcom in 2001 via the front page of Variety, this reporter wrote another page one missive for the trade in 2006 declaring that the sitcom had found "a pulse" following the modest success of How I Met Your Mother and My Name Is Earl. Dana Walden, head of 20th Century Fox TV, graciously helped in the quest for answers: "There were a few creatively adventurous new shows that didn't feel derivative of past successes, and as such they immediately caught the attention of the audience," she said. Perhaps: But the next season, the very clever Andy Barker, P.I. and The Class would die quick deaths, while the (not) clever Rules of Engagement would debut that same season and remains on the air today. Further proof there's no formula for what works with comedy: Over the last decade, Walden has been responsible for a series of comedy hits on completely opposite ends of the quality spectrum: HIMYM and Yes, Dear, Modern Family and Reba, New Girl and Last Man Standing.
Bottom line? There may be no grand logic behind why sometimes we watch a lot of comedies and other times we waste our time on reality shows or obsess over the personal lives of melodramatic medical practitioners. And often it's just a matter of finding the right balance of numbers of shows (a glut is a glut) and networks figuring out the best way to schedule them. So let's all resist the urge to make up sociological or economic explanations for the sitcom's resurgence. (Thereby freeing up Robert J. Thompson's day: Hey, Bob, why don't you and Paul Dergarabedian go whale watching? You deserve a break from all the quoting!) Yes, these are tough times, but they do not necessarily make people more eager to laugh: In boom times, do people come home and say, "I've been smiling all day and I'm tired of it: give me something dour to balance me out!" They do not. And viewers are not being lured back by new innovations in comedy: Sure, Zooey Deschanel is a unique personality, but Two and a Half Men remains top-rated, and that's just The Odd Couple with more erection jokes. (Though who could forget the Odd Couple classic, "Felix gets his junk caught in his tie-clip case"?) As ever, trends are just another way of saying that success breeds imitation, whether it's comedies, dramas, movies, or Angus hamburgers — available for a limited time only!
Photo: Up All Night: Colleen Hayes, © NBCUniversal; 2 Broke Girls: Monty Brinton, CBS Broadcasting; New Girl: Fox