A Comprehensive Guide to Taylor Swift's Arm Dancing
We salute you, Taylor.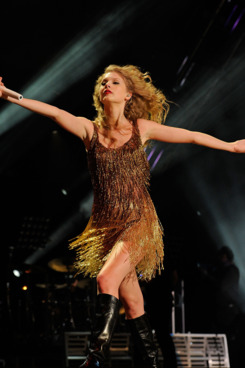 Taylor Swift's Speak Now tour, which will wrap up next month at Madison Square Garden, has provided the public with a number of charming rap covers and surprise guest appearances (T.I., Usher, and Swift fairy godmother Nicki Minaj, among others). It has also provided us with ample opportunity to behold the range of Taylor Swift's arm choreography. Never before in country-pop music has a woman expressed so much through two limbs; Swift's appendicular versatility is astounding. And so, to salute Taylor's great achievements in wingspan expression, we now present the complete guide to Taylor Swift's Arm Dancing.
Previously: A Complete Guide to Justin Bieber's Dance Moves