The X Factor Recap: The 30 Degree Angle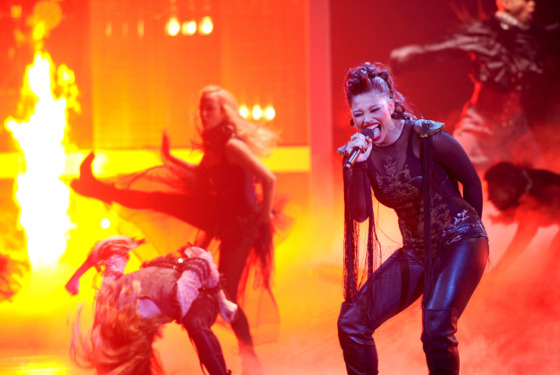 Two and a half hours! Tonight's X Factor is LIVE and it is two and one half hours long, like some kind of big-budget charity dance-a-thon. It will indeed be an endurance test, but here's my ace in the hole: I am on an airplane (Virgin America, for whom I am not a paid spokesperson, but from whom I will listen to an offer). I am in many ways an actual captive audience. Also, I hew very strictly to what I call my Airplane Red Wine policy which is that I always drink lots of red wine on airplanes. Bring. This. Shit. ON.
There is a double order of sturm with extra drang tonight, as you might imagine. More Carmina Burana and laser effects when the judges (are you familiar with the judges?) are introduced. And finally, after more than a month, we get to see Steve Jones in a suit, doing some live TV hosting. He's a little bit stiff, and so am I, if you know what I mean, which you do. Debra, more wine please.
Who is first to sing? ASTRO is the first to sing. Astro, who is notable primarily for not singing. He does Wreckx-N-Effect's "Rump Shaker," or Kriss Kross's "Jump," or some kind of mash-up medley type of thing that is simultaneously both songs and neither. Can you do that? Can you just do your own songs? It is good, I think, but I'm unreliable on this; long ago, my good friend Lee said, "I can tell the very best rapper from the very worst rapper, and everyone in between sounds exactly the same," and it still may have been the most relief I have ever felt. That is exactly how I feel about rap, and that is exactly how you feel about rap. Anyway, Astro is very charming, though you have to wonder where it can go from here. Don't they do country week, or big band week, or whatever? We shall see.
Chris Rene is up next, and L.A. says of him: "Even if he hadn't been on drugs, I still think he would have been a star." What a lovely thing to say! Chris's mom must be thrilled. He does some kind of riff on "Love Don't Live Here Anymore," during which he hits almost none of the correct notes, which you would think would be a problem in a notes-hitting competition, but you know what? All bets are off.
Oh my goodness, this Steve Jones can wear a suit. Wikipedia says he is from the Welsh town of Rhonnda, which sounds like where the Mad magazine parody of Game of Thrones would take place. I would like to take him on a one-way trip to Snuggletown, USA. Especially since he seems so nervous! It's going to be okay, Steve Jones! I'm here.
Phillip Lomax is dressed like he's in his college roommate's wedding. He's very pretty, this Phillip Lomax. Performancewise, he is very toothy and nasal. Very facey. Every shot of L.A. looks like he's asleep. I fear for our handsome Phillip.
Last: Marcus Canty. He's been impressive from the start. He repeats that his mother has given him two years and this is his very last chance, which no it isn't, so producers, you could maybe dial it back on the phony conflict. He sings "Do You Really Want to Hurt Me," and I spend the song's whole slow intro worrying. What are they going to do to this song? Immediately, the answer is revealed: They're going to Will.I.Am it to within an inch of its goofy, queer life. It doesn't not work.
Okay. Decision time. I think Chris Rene should go, but the producers will absolutely roll the dice on a live-TV meth relapse, which leaves Phillip vulnerable. Astro makes it! Marcus makes it! Chris ... makes it. Phillip is free to be the best man in Steve Jones's and my big gay bi-national wedding. Bummer he didn't make it through; his and Chris Rene's perfect 30-degree fedora-cocking could really have taken off with the kids.
Hey, we're one quarter of the way through!
Next up are the groups! Up first: the Stereo Hoggz! One of them is named "Just'n." Not Justin, but Just'n. Because his parents were in a great big hurry. Paula is shaking her head in disbelief before anything even happens. They do "Try a little Tenderness," and it's good, even if only one of the guys are visible. Mat'hew? Jam's? J'h? Hard to say.
Paula introduces the Brewer Boys thusly: "These guys are cool with a definitive sound!" Paula will introduce you with faint praise. The boys say: "It's hard to believe a week ago we were playing with our puppy." Nobody seems to understand the way time works, or that you might not be forever petting a dog. ANYWAY. They do the clunkiest-possible medlification of "Rich Girl" and "Faith." "You can rely on the old man's money ... because you gotta have faith." I hate them for that. But you know what I love? There are backup dancers on this show! Full production numbers for everything!
Paula gets pillsier with each passing group. She says, "Okyay, X Factra! Here comes InTENsity!" There are 243 members of this group, so it's impossible to know what's going on or how they're doing. But it's fun, kind of! Like something you'd see at the mall around Christmastime! They are also children, so when a judge compliments one, it goes like this: "Aaron, you were such a star. You are all stars. Girl, you can sing! You can all sing." Paula tells them they "rose the occasion." She's back, everyone!
Steve Jones tells the crowd to give it up for InTENsity, and can I tell you something, people? I clap. I will remind you that I am on an airplane with other people. (Aisle seat. I'm not an animal.)
Lakoda Rayne is last up, and I have already decided they're not going to make it. Prove me wrong, Lakoda Rayne! They do a mournful countryish version of "Come On Eileen" that sounds a bit like that "If I Die Young" song, but then it speeds up and gets kind of boring and makes me miss the Anser. But they're lovely!
It's Decision Time again! Paula hems and haws, and Steve Jones has to rush her along. To repeat: Steve Jones has to keep a two-and-a-half-hour show running on time. After much drowsy babble, Paula sends ... the Brewer Boys home. Shock! They say "I'm sorry we didn't live up to your expectations," like children, because they are children.
Next, the Over-30s! And first among them shall be Dexter Haygood. He's been having trouble with the lyrics, so Nicole has wisely chosen Britney Spears's "Womanizer," whose lyrics are 98 percent the word "womanizer." He still gets most of them wrong. It's a little bit of a medley — medleys are huge tonight — with Katy Perry's "I Kissed a Girl," which makes no sense at all. The judges judge him politely, he replies with "AND I LIKED IT" at least twice, and it's clear right away that Dexter Haygood is a troubled soul.
Leroy Bell is next, and ... is he vegan? Is he on a constant juice fast? What is his deal? Do you get the sense that they are keeping him around so they can collect samples? His voice is lovely, even if he does get a little dwarfed by the massive stage. I like this guy. He's probably Jesus, can we agree on that?
Stacy Francis does George Michael's "One More Try," and oversings it, and I'm happy to say that oversinging comes off kind of passe right now. Did we all know that Stacy was in an early-nineties R&B girl group called Ex-Girlfriend? And for a while — undoubtedly in that Cross-Colours/White Men Can't Jump/A Different World black-consciousness moment — went by "Stacy X?" Well, it's true. And it's more interesting than what she does here. Paula says she "told the punch line" of the song, whatever that means.
Josh Krajcik is up next. I want him to have bathed. Please have bathed, Josh Krajcik. He does his typically great thing, but it's hard to focus on his performance, because there is some kind of interpretive dance going on behind him. The judges heap praise upon him, which Steve Jones must sprint through; Nicole is two words into her review, and Steve cuts her off with: "Wonderful, wonderful comments." And with this, The X Factor has become a fantastic television show. Results are inconclusive as to whether Josh Krajcik has bathed.
And now Nicole MUST SEND ONE HOME. I worry that it will be Leroy, while it probably should be Dexter. Stacy Francis is in! Josh is in! It is down to Dexter and Leroy. Come on, Nicole. She does the right thing and sends Leroy through. Dexter is feeling confused. And is feeling confused about why he's confused. And is in a BOGGLE ZONE, which is a 21st century Twilight Zone. These are direct quotes. Oh, we will miss you, Dexter Haygood. By the way: Dexter Haygood, Golden Voice Ted Williams, Margot Kidder, and Gary Busey in a house. Tell me you wouldn't watch that show.
Finally: THE GIRLS. Simon must send two home tonight, because of his weird Melanie Amaro stunt. I am making the snap judgment: Simone Battle can do nothing to win my favor at this point. She does "Just Be Good to Me" and does everything right except for the singing. L.A. says TO HER FACE that he doesn't get Simone. Simon says TO HER FACE that the other judges don't like her. Oh Jesus Lord. We're stuck with her, aren't we?
Okay, now that I have been watching this show for eleven hours, from Arizona all the way through Ohio, I will say it's nice to finally see these people on a big stage doing big numbers for a big crowd. Most have risen to the challenge! It's also good to see that Paula is past her bedtime. We're going to see some high-quality crazy in the coming weeks, you watch.
Rachel Crow is up next, and she looks like some kind of Mel & Kim/Five Star eighties U.K. pop act, which makes sense because Simon's her mentor. She does a medley — again with the medleys! — of "Baby" and "Where Did Our Love Go," which is just as charming as can be. Paula says "You can do anything! You can run for president!" Which of course she cannot, Paula, because she is 13. But don't think some people at the news division of Fox didn't entertain the idea for a moment.
Drew Ryniewicz is going by just DREW now. She is living, in real time, the lyrics of Ben Folds's "Your Redneck Past." She does kind of a spooky, minor-key take on "Flashdance," because people have forever been clamoring for a spooky, minor-key take on "Flashdance." You know how you're listening to the slow beginning of "Flashdance," and you're saying to yourself, "I hope this song never speeds up and is just a giant bummer forever"? Drew has you covered. And the crowd goes wild!
Tiah is next! Tiah is also unpopular with every other judge! Ugh: I think we'll probably lose either her or Simone, but not both. She does "Sweet Dreams," backed up by some kind of Knotts Scary Farm dance situation. It's deeply weird, which is why I'm upset I'm not enjoying it more. She sings better than she has before, but more importantly, she isn't intimidated by the whole thing. Still, it's unremarkable, and Simon is all play-furious that the other judges don't like her more.
Last of our 3,094 singers is Melanie Amaro, who you will be reminded a million more times almost didn't make it. I kind of want them to vote her out, and then fly to her house and get her back, and then vote her out again, just over and over and over. She's the last to perform, and they're already so over time, she sings what I will call an abbreviation of "I Have Nothing." It's basically: "Take ... my ... life. Door! NOTHING! You-oooo." APPLAUSE. She will of course go through.
Two girls must go! Drew is through! Simon calls her a major recording star! I look forward to her first single, which I've heard her do eleven times already. Rachel is through, and I am plotzing. Plotzing on a plane! And I am Catholic! Which means of Melanie, Tiah, and Simone, only one can go forward and it's ... MELANIE. That was so unsurprising it's kind of incredibly surprising. Simone reveals that she's going to release her first single "He Likes Boys" on YouTube tonight anyway. Simone was right all along: She is fierce. (Here it is. I don't disapprove.)
The most shocking thing is that the judges got it almost completely right. And tonight, we got a taste of what this show can be: It's entertaining, it's big and hokey, and Steve Jones will cut you right off if you start running at the mouth. I'm hooked again.
And then I get to baggage claim, and who's there but Jeremy Piven, with his fedora cocked at a perfect Rene/Lomax 30-degree angle. The kids and the 50-year-olds are all right.