Theater Review: An Overleveraged Man and Boy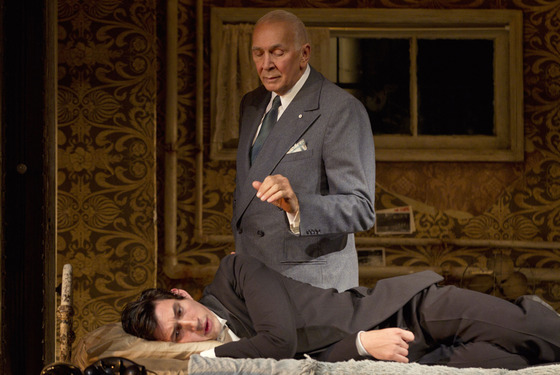 The older the vampire, the longer the fangs: In Man and Boy, the Roundabout's uneven new revival of an uneven old Terence Rattigan melodrama, Frank Langella, once and future Nosferatu, is given free rein to do what he does best, i.e., seducing and menacing and occasionally sinking his teeth into the puny mortals who surround him, all in tones as dark and deep as aged cordovan. But the monster of charm and guile he plays here, one Gregor Antonescu — a Depression-era financier with a hemoglobin-tinged Carpathian accent and a worldwide house of cards that's on the brink of collapse — is the real prey. As his empire of "confidence and liquidity" crumbles and the noose tightens, Antonescu hides out in the Greenwich Village bachelor-hovel of his estranged offspring Vassily (Adam Driver), who now calls himself Basil and passes as an Oxford-educated Yank. The father hopes to enlist the son's (mostly unwitting) support in a last-ditch gambit to save his vast holdings and, with them, the whole dirty, corrupt, indispensable "system" they underpin. Basil's loyalty is hardly guaranteed: Five years prior, he disowned Antonescu in rather dramatic fashion (a pistol shot was involved), and reinvented himself as the sort of "goddamn Bolshie" who chides Roosevelt for "not going far enough fast enough." Will blood prove thicker than liquidity?
The question keeps coming up, but it's oddly immaterial: Langella and Driver never feel even remotely related to one another, genetically or dramaturgically. They occupy parallel universes: Man and boy spend most of an entire evening in one room, in real time, feinting at each other, yet their blows always strike wide; they're nowhere near each other. The reasons are twofold. One is Driver, whose stage presence I continue to find highly confusing: He exhibits a weird, seemingly willed lack of control, an uncanny disconnect between the words coming out of his mouth and the behavior of his body. It's like he's entering every scene encumbered with some alternate idea of the play he's in, as off-puttingly as he walked in wearing flippers and a snorkel mask. He's got something I'll call, for lack of a better word, spazzmatazz, and he always seems to be building up to some sort of full-on neurological fit.
The other problem is the play, which was written well after Rattigan's peak in the forties and fifties, when sturdy, smoothly schematic dramas like The Winslow Boy and Separate Tables — unsubtle yet sensitive and keenly observed studies of the public-private divide in postwar England — made him one of the world's most producible playwrights. (He was, in essence, the U.K.'s discreet, cleanly mitered answer to Tennessee Williams.) With its sharp scent of Madoffery and inchoate anti–Wall Street paranoia, Man and Boy isn't the Roundabout's most mystifying choice of a damp, dispiriting revival in recent years. (That trophy, I'm afraid, belongs to the completely unnecessary A Man for All Seasons, Langella's last trip to Broadway.) As was pointed out when it premiered in 1963, it's a pretty weak play by Rattigan standards, and even weaker by the standards of the Shaw and Ibsen masterpieces it feels like it's trying to mimic. The situation at its center is just too silly, too confined and convenient, too almost farcical to find solid purchase as drama. Basil lacks his father's diamond-tipped ruthlessness; he's "soft," a condition he tells his saucy American girlfriend Carol (Virginia Kull, doing her best as a one-woman exposition service) that his father equates with being "queer." This notion is then borne out, rather literally, in a highly entertaining but largely ridiculous game of insinuation and sexual leverage, in which Antonescu lures a potential merger target, Herries (Zach Grenier), to Basil's grungy Village apartment, and convinces his closeted guest that he's among kindred spirits — indeed, that Basil himself might be "un petit pederaste," if the price is right. This should be appalling, but, as directed by Tricycle Theatre's Maria Aitken, it's mostly just amusing — the best leg of the show, in fact. Grenier and Langella share a fascinating pas de deux, a battle of body language that's a treat to see. As Antonescu's majordomo Sven, the right-hand man who's expert at pretending not to know what the left hand is doing, Michael Siberry proves himself, once again, the Roundabout's secret weapon and sine qua non. (In just three syllables — perhaps the most spectacularly insincere "I'm sorry" ever uttered on any stage or in any medium — Siberry sums up the mendacity of the entire politico-financial apparatus he serves. When does this guy get his own miscalculated Roundabout revival?)
The scene puts a crater in the show's already inconsistent tone (is this mordant gray comedy or lacerating drama a little gone in the teeth?), but you can't really accuse Aitken of selling out Man and Boy: There's precious little to sell out. Rattigan begins by interrogating both the excesses and exigencies of capitalism (including the benevolent, Keynesian social-capitalism Antonescu is supposed to represent), and the sentimental lefty idealists who wait patiently and ineffectually for it to implode. He ends on squishy ground, in an elegiac twilight that feels more like confusion than nuance. The play gives birth to something inhuman in Antonescu, a man-shaped hole in space and time that's sucking in real wealth and innocent bystanders — a "nothing," as his son calls him. And, having shaped Antonescu, Rattigan has no further opinion on him. He's as stunned as the rest of us Lilliputians at the very existence of such a creature, and he exhibits neither Mamet's lust to devour the heart of the predator and thereby gain his powers, nor Aaron Sorkin's starstruck faith in the soft underbelly of ruthlessness. It feels more like Rattigan's created a monster he can't control; the play goes into a spin fairly early on, throwing off (and forgetting) minor characters, left and right. Who can blame Aitken for simply cutting her losses, unleashing Langella and Siberry onto Derek McLane's insanely detailed Depression crash pad, and delivering a strange, not unentertaining evening? In this economy, a Weak Buy is still a Buy.
Man and Boy is at the American Airlines Theatre through November 27.
Photo: Joan Marcus