Theater Review: Chinglish Is More Than Just Mangled Language
It's more than just jokes about fractured language.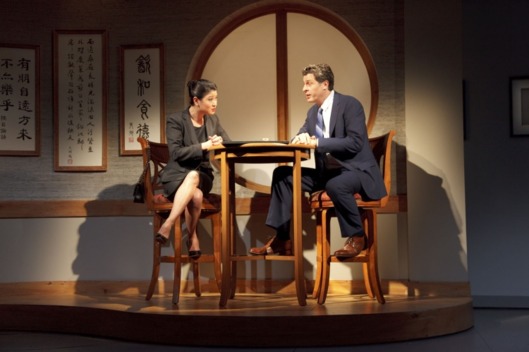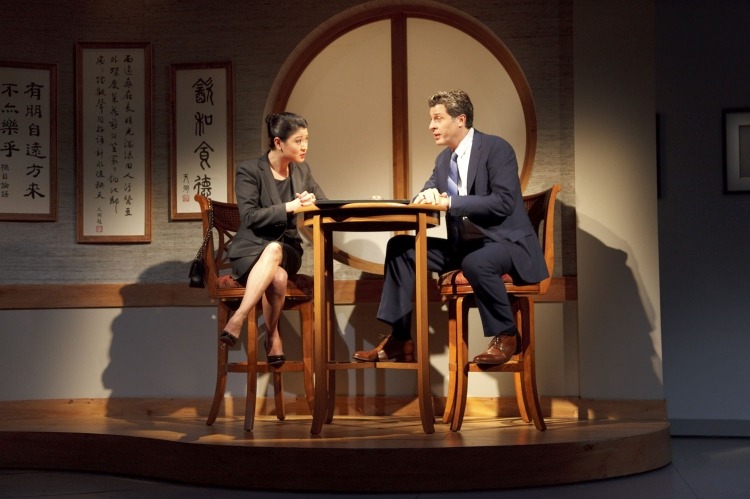 A lot of Western expressions get hilariously and perilously lost in translation in Chinglish, David Henry Hwang's doggedly accessible, avidly entertaining new comedy. But one particular term comes through loud and clear. "All person know 'screwed'!" Vice Minister Xi Yan (Jennifer Lim) informs clueless American businessman Daniel (Gary Wilmes) in their first one-on-one encounter. It's a core tenet of commerce and congress they both understand instantly and intimately — and, it turns out, on multiple levels. Chinglish, that ungainly ligerlike copulation of English and Chinese translations celebrated in blogs and on T-shirts, is always at its most delightful at its most double entendrous. ("Please don't touch yourself. Let us help you to try out!") And so it is with Chinglish, a sexy labyrinth of "backdoors," slippery idioms and comically low-stakes intrigue. (Daniel is in China to sell English signage to an arts complex, not missile components to the People's Liberation Army.) A game is certainly afoot, with the Westerner lagging three steps behind, but unlike the Chinese boxes of David Mamet, this play isn't designed to snap shut and take off a finger. The bite is softer, and perhaps even a little too soft: Subplots that touch on abuses of power in still-totalitarian China feel a wee bit breezy-cute and lightweight. (The China of Chinglish is more or less the inverse of Mike Daisey's dystopic panorama of city-size, orphan-packed iPad workhouses; here it comes off practically postindustrial, populated entirely by entrepreneurs, apparatchiks, and subscribers to Thomas Friedman podcasts.) 
But Hwang isn't attempting a repeat of M. Butterfly, his signature East-West meta-tragedy, and audiences may well find that Chinglish's ache outlasts its sting. Hwang is, at heart, a teacher, and he's written a teaching play, with a sound-it-out approach to Sino-American cultural chasms and the power asymmetries that arise when naive Western absolutism stumbles into the quantum fog that is guanxi, i.e. "relationships." He's also, God love him, made his show great frisky fun, with savory chemistry between its leads and a refreshingly grown-up undercoating of well-earned melancholy. Wilmes (best known for the great boors and heavies he's played in Gatz and Red Light Winter) first comes off a little too slow and galumphing as the lonely, credulous Westerner, but stick with him: He's building a complex, if recessive character, a broken dreamer with a need to project his own desires and beliefs onto any situation — or alluring top-level bureaucrat — he can't grasp. And there's so much in China for him to not-grasp, starting with the language. ("Love" becomes "dust," "I love you" becomes "My fifth aunt," then "absolutely useless," and finally, gloriously, "frog loves to pee.") The object of his inarticulate affection is Lim's Xi, a local party official who might be trying to help him win a game-changing contract — or might simply be serving her own agenda. Xi certainly has her own woes: Her once-passionate marriage to a local judge has gone cold, and she finds herself in need of escape. "We were the new generation, who would pick good men, and live for love — I did everything right," she muses, wondering where it all went wrong. But her Xi is no wistful lovelorn maid, waiting patiently for Pinkerton to return: She has plans for herself, for her country, and, yes, for the occasional afternoon delight. Lim is just plain superb in a role that makes us realize just how few solid multidimensional roles for powerful adult women exist these days, on stage or screen. Rarely do we get to see a woman over the age of 30 and under the age of 60 express herself with such self-possession, such unquirky steadiness of soul, such sexual and emotional matter-of-factness. Funny, fierce, effortlessly precise (she transforms one word — "What?" — into a dizzying symphony of evasions, feints, and strategic retreats), Lim turns in a Tony-worthy performance of a marvelous role, a triumph in any language.