Theater Review: The Importance of Santino Fontana, in Sons of the Prophet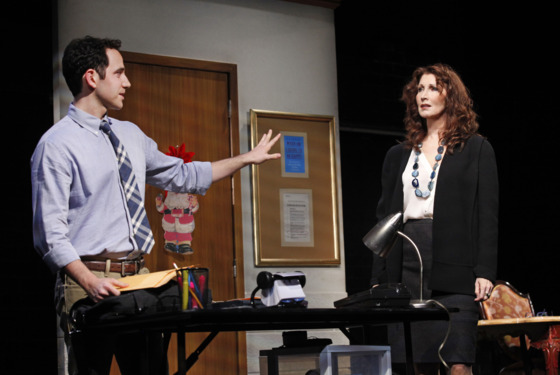 Santino Fontana, last seen all a-smirk in The Importance of Being Earnest, now reappears in Stephen Karam's tremulously sincere comic-drama Sons of the Prophet, and, in case we didn't get the memo, firmly establishes himself as an indispensable stage star. The role he plays here, Joseph Douayhi—a young man dealing with an older man's pain, spiritually, physically, psychologically, and perhaps psychosomatically—couldn't be more different than his buoyant, impish Algernon Moncrieff, yet both parts display Fontana's impressive gifts: his flawless timing, his jeweler's eye for the emotional cruxes of every exchange, his comfort with discomfort. Like Tom Hanks and Tony Shalhoub before him, Fontana, with his pound-puppy eyes and perpetually alarmed voice, makes the leap from laughs to pathos so nimbly, you barely realize he's done it. He's always a step ahead of us, emotionally, as a great performer should be.
Whether locked in a barely civil power struggle with his needy, pill-popping boss-from-hell (a fantastically wrecked Joanna Gleason) or a tickle fight with his freewheeling younger brother Charles (promising newcomer Chris Perfetti), Fontana's Joseph exists in his own magnetic field of vulnerability, which draws people in, whether he likes it or not. He's a distant relative of Khalil Gibran, author of The Prophet, the chief scripture of all-is-well, all-is-one hippie syncretism, but all is not well. A lower-middle-class Lebanese Maronite raised "white" in Pennsylvania's working-class Lehigh Valley, he's a homebody, gay, and out but quiet about it, which means he's mostly alone. ("In this town," Charles tells his brother, "you must drop hints." Charles is also gay, and the unforced naturalness of their fraternal dynamic—a relationship which, apart from Frasier and Niles Crane, hasn't really been explored by mainstream storytelling—is one of the play's many joys.) Joseph's just lost his father, still the family's chief breadwinner, to a heart attack, which may or may not have been precipitated by a prank played by Vin, a black high-school football star (Jonathan Louis Dent). When Vin's juvie sentence is suspended to allow him to play out the season—playoffs are at stake—Joseph's cantankerous, disabled Uncle Bill (Yusef Bulos, a heartbreaker) responds by spouting Gibran passages and racist canards in equal proportion; Joseph has to keep him in line as a small press scrum builds around the story. The hits just keep on coming, too. Joseph is dealing with chronic pain and an endless string of diagnoses as expensive as they are inconclusive. Is it fibromyalgia? M.S.? And how far, exactly, must he go to appease the whims of his employer, Gloria (Gleason), the wealthy, disgraced, highly unstable New York publishing expatriate (think Judith Regan-in-exile) who supplies his health care? In short: What—after Gibran, spirituality, pop spirituality, and the "easy opposites" Starbucks cup—is this distracted, depressed generation's response to the steady accumulation of suffering?
If all of this sounds a little unwieldy for a one-act, it is, a bit. Sons lets its many small tragedies pile up on purpose, for effect, but it also leaves a few loose ends. Yet Karam—best known for his similarly engaging Speech and Debate—deftly avoids most of the traps he lays for himself. He turns what might've been little more than a frowsy tale of small-town squalor, or a sticky, indulgent pity party, into a plucky little poem about suffering and resilience, which speaks directly to the Great Slump and the generation it's in the process of consuming. Director Peter Dubois seems to appreciate the gifts he's been given, in this text and these actors, and does a superb job of pruning away distractions and playing up critical moments; towards the end, he stages a public hearing on Vin's deadly prank that brings the play's rolling boil of pandemonium splashing into the audience. The scene is a triumph, and by the time Gleason arrives to deliver the coup de grace—which she does, majestically—we're sold. Finally, there's Nico Muhly's bewitching score, far more effective than your average straight-play's Thomas Newmanesque beaded-curtain of tinkly shimmers. Sons of the Prophet belongs to Fontana, but everyone here is more than pulling his or her weight. This is feel-good theater you don't have to feel bad about later, mainstream stage entertainment with no aspartame aftertaste. And it goes to show: There's no real downturn when it comes to strong new voices. They're there. Let's put them on bigger and bigger stages and see what happens. If that's a bubble, well, it's well worth inflating.
Sons of the Prophet is at the Laura Pels Theatre through December 23.
Photo: Joan Marcus