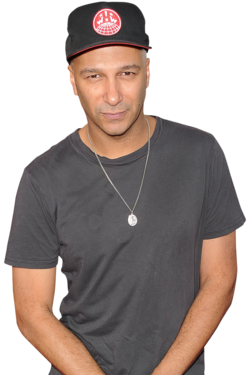 Tom Morello on His New Comic Series, Occupy Wall Street, and Superman Renouncing His Citizenship
Grammy Award winning guitarist and songwriter Tom Morello has been rattling the Establishment for two decades through the music of Rage Against the Machine, Audioslave, Street Sweeper Social Club, and the Nightwatchman. Now he's bringing his socially conscious vision to the comic-book world with a twelve-issue Dark Horse Comics series called Orchid, with art by Scott Hepburn. The debut issue depicts a post-climate-change world stressed by flooding, pollution, giant mutant creatures, and rich overlords enslaving the surviving citizens. Two characters, a rebel with a magic mask and the titular young prostitute, find themselves about to be united in revolution. After his Occupy Wall Street performance yesterday and just prior to his Comic-Con appearance last night, Morello chatted with Vulture about his new series, Occupy Wall Street, and Superman renouncing his citizenship.
Orchid is an interesting blend of postapocalyptic sci-fi, fantasy elements, and social drama. How did these ideas congeal in your brain?
About three years ago, I had a story to tell, and I wanted to combine the sweep of epic fantasy like Lord of the Rings or Star Wars, but infuse it with a class consciousness. I wanted it to be one-part Dune and one-part The Battle of Algiers. I was looking for an outlet for it. I didn't want to be dragging a screenplay around Hollywood, and I didn't, in my busy rock life, have time to write a 700-page novel. So I was drawn back to the world of comics. I was a big collector as a kid and a teen, then went away from comic books for a long while. Then [later] I discovered comic books had come a very long way.
The story promises to tackle feminist issues, especially as Orchid and her fellow prostitutes are marked with the words "property" and "know your place" on their bodies.
This is not a world of the haves and the have-nots, this is a world of the have-everythings and the have-nothings, and I wanted a hero on the absolute lowest rungs of the social strata.
Comic books have always traded in fantasy. Occasionally there are social or political elements that are brought in, but it seems that many readers of mainstream comics don't want those types of themes being pushed too far into their stories. Why do you think that is?
Comics have traditionally been an escapist medium, and for some people they still are. When I was a kid, that's what I loved about them. I lived in a very conservative suburb, and to read stories about superheroes flying around the globe and punching each other was very appealing to me. Around the time that I started playing guitar, I became politically conscious. That's why I stopped reading comic books, because they no longer met my needs. It was in that interim period that comic books caught up. The two books I was drawn to when I rediscovered my love of comics were V for Vendetta and The Red Star, both of which have very strong social commentary to them, and that's what made me think this is a medium now that has caught up with my political ideas. It just doesn't have to be about the Hulk and the Thing brawling in a rock quarry; they can tell a story broader than that.
Were you surprised at the venomous reactions to the story in Action Comics No. 900 where Superman renounced his American citizenship?
[Laughs.] Of course. These people were like, "Superman is as American as apple pie and baseball." But it doesn't mean that the people who bake apple pie and play baseball can't have a conscience as well. Superman decided it was just wrong. I think it was really great.
What kinds of characters will we see coming in future issues of Orchid?
There are more characters coming. What I can say without giving too much away is that when I first moved to Hollywood, I went there to try to join a rock band and did not succeed. I had the wrong skin color to be in a hard rock band, I had the wrong hair to be in a hard rock band, things like that. The community that first accepted me when I moved to Hollywood was the bad side of the tracks — the drug addicts, prostitutes, the East L.A. rock scene. These people became my best friends, and they were great people who accepted me when nobody else would. So that gives some insight.
You played Occupy Wall Street this morning. What was that like?
It was great. I played Occupy L.A. last Saturday, and it was similar. A lot of that is reflected in the book as well, that 99 percent of the population controls nothing and the one percent controls everything, and is that okay? In Occupy Wall Street and my music, we say it's not okay.
A lot of people have groused about how Occupy Wall Street has not been very organized yet, although it can be argued that the civil rights movement of the sixties was not very organized in the beginning but gradually snowballed into something greater. What do you think?
There are now 1,300 towns and cities that have Occupy movements in them across the world. It's beyond our borders. There is an Occupy Tokyo going on. Clearly it has struck a chord with the working class and poor people on the planet who don't know feel represented by the institutions that rule them. I like the fact that it's a gathering place as well. You can go there. It's not like next Saturday there's going to be a demonstration. It's like we can go by at eleven o'clock tonight, and we're going to occupy our city.
You and Serj Tankian in particular have received a lot of criticism in recent years over your left-leaning political views, especially as many hard rock and metal fans are conservatives. Is it heartening to see what you have been doing with Rage Against the Machine, the Nightwatchman, and other music projects finally being reflected in society?
I think it's often reflected in society. When the Iraq war was being launched, there were 10,000,000 people in the streets. In February, there were 100,000 people in the streets of Madison, Wisconsin, over that bad anti-union legislation. The spirit of resistance is nothing new in the United States. It's reflected in Occupy Wall Street, and it's reflected in Orchid.
Photo: Jason Merritt/Getty Images