Win a Pair of Tickets to See the Off Broadway Apocalyptic Circus Traces
Tweet the phrase that ... well, not "pays" so much as gets you free admission.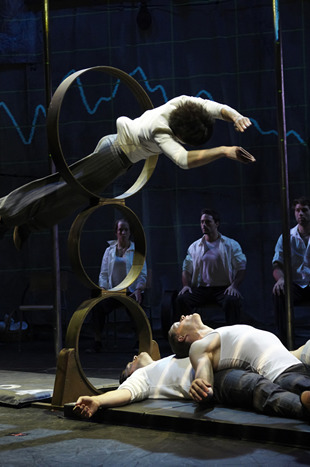 New York Magazine's Approval Matrix put the wild Union Square Theater show Traces firmly in the Highbrow-Brilliant quadrant, and called the production by the Montreal troupe 7 Fingers "a quasi-apocalytpic circus of skateboard tricks, modern dance, and various other eclecticness." Today, we're giving away nine pairs of tickets to see the show between now and November 14. To enter, simply follow New York Magazine's main Twitter account, @NYMag, and then anytime between 10 a.m. and 2 p.m. today, simply tweet the following phrase and hashtag: "Acrobatics, music, and dance? Yes, please, to Off Broadway's 'Traces'! #nymagtraces". (We'll tweet a "ready, set, go!" at 10 a.m.) Winners will be picked at random and announced on Twitter by 6 p.m. EST.
NO PURCHASE NECESSARY TO ENTER OR WIN. Winners will be chosen at random, and must be 18 years of age or older to attend (valid I.D. required). Must be a follower of the nymag Twitter account (@nymag) to win. Winner will be notified via Twitter and have one (1) business day to claim prize. Click here to view the complete rules.