Let's Speculate Wildly About the Watch the Throne Set List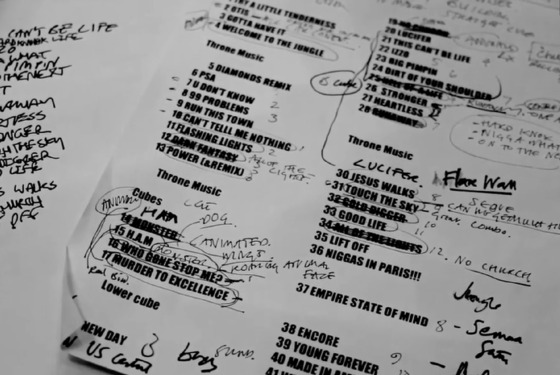 Kanye and Jay-Z's joint tour kicks off tonight! And being the generous and promotionally savvy gentlemen that they are, 'Ye and Jay released a teaser video that includes a glimpse of the Watch the Throne tour set list. What manner of spectacle is planned? Let's all squint at the list together and break it down!
The song selection, based on the typed list and the barely legible scribbling on the side (check out the video here if you can't read it above), is pretty much a greatest-hits special, broken down into sets by rapper. Also, it's 41 songs long. That is a lot of really awesome songs! But will they actually do all 41 each night? And if they do, which song is the boring one that you're supposed to use as an understood bathroom break?
More important questions: What is "Throne Music," and will it involve Jay and 'Ye being rolled to and from the stage on actual giant thrones? (It goes without saying that we hope so.) Does that say "Flame Wall" on the right next to "Jesus Walks," and if so, is that legal in all 50 states? Finally, if the handwritten notes on the bottom left do actually read "cat. dog. Animated wings. Roaring animal face" (and we've been squinting at them for the past hour, so we're pretty sure they do), then which animals will Kanye and Jay be? Tigers? Rhinocerii? Discuss.
Bonus round: Please identify the words that might be "Semana Santa" right next to "Empire State of Mind." We thank you in advance.
Video: Jay-Z and Kanye West Unveil "Watch The Throne Tour" Set List - [Complex]