Why Fox's Decision to Bench New Girl Until November Is a Good Thing
Airing after 'X Factor' could have hurt it.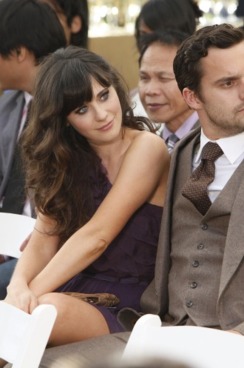 Last night we told you that Fox's fall hit New Girl would be off the air until November, prompting some head-scratching among those in the I Heart Zooey Club. "Just when the show was finding its footing, Fox gives the audience the chance to forget all about it? This is how good shows die," fumed Jess lover PDX in the comments of the post. Well, simmah down, people: Fox isn't trying to kill its adorkable golden goose. Indeed, the fact that the show won't be on the air for a spell is actually the clearest evidence yet that Fox feels it's found a new long-term comedy player.
But what about the argument that simply not airing New Girl for three weeks might slow down its momentum? Well, it's worth looking at what happened two years ago, when Fox preempted the red hot and new Glee for three weeks in the fall for baseball: After averaging 7.1 million viewers on October 21, it attracted 7.5 million gleeks upon its November 11 return. Is it too late to book Gwyneth Paltrow for New Girl's next new episode on November 1?