The X Factor Recap: Seventeen Finalists, 32 Fake-Outs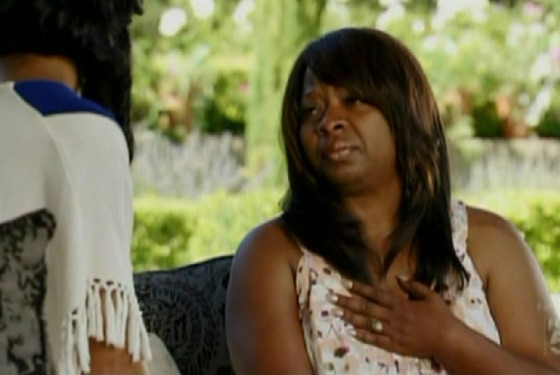 Hey, do you guys remember a couple of days ago, when I told you I was starting to love The X Factor? Well, tonight we started fighting. Our relationship is in jeopardy, but we are going to stay together. For YOU.
The show begins, as always, with 47 minutes of recap. As with American Idol, there are about eleven minutes of show in every two-hour show. Are you aware the prize is a $5 million recording contract? Did you know that all of these contestants want very badly to win it? Have you met our judges? Do you have this show recorded, and are you therefore able to fast-forward through this business? What does that feel like? Do you know how lucky you are?
The first two contestants to learn their fate are Tovah Feldshuh Tora Woloshin and Simone Battle. They're kept waiting for dual eternities, while we learn our fate kind of quickly: Tonight is going to be a night of head-fakes and tricky edits. I've watched a few of these kinds of shows, so when Simon tells Simone "This is the hardest decision I've ever had to make," I know she's in. And I'm right, which is some bullshit. It's back to cars and face tattoos for Tora. She calls her mother to deliver the bad news, and says "I just wanted to make you proud." There is a long, long pause before her mother finally responds with a decisive "Oh."
And then there's Drew, who does my favorite TV talent-show thing: blithely insulting her hometown. "Nobody has big dreams here," she says, possibly forgetting that she will have to face these people again. Drew is maybe too young to know that "angry townspeople" is a thing that exists. "You weren't the best teenager," Simon says, and Drew withers. Relax, Drew! This is a thing Simon does! "You were the best OVERALL AUDITION." She's in! I'm happy for her, if only because this experience will smarten her up a bit.
And then we're off to the shared BBQ area at Nicole's apartment complex, where human po' boy sandwich Josh Krajcik learns his fate. Is anyone worried that he won't make it? He makes it, and cries giant, viscous brown tears.
Next up, Christa, James, and Dexter. It's too early in the show to let more than one of these three through. I'm starting to have a bad feeling. Now, apparently the producers have told only part of Christa's story; evidently during her tenure at Disney, her mother was killed in a hit-and-run accident and that's what forced her to take a break from singing. I know this because there is a Christa Collins truther in the comments section. And it seems like the kind of thing the X Factor producers would really sink their teeth into. But no! She's out.
So it's between James and Dexter. Oh no. I don't need to tell you that they pass over the handsome guy with the good voice in favor of the homeless guy who can't remember words and has hair that my boyfriend has deemed "not so much dreadlocks as a basket of crinkle-fries." Dexter jumps right into the pool, and you and I both know he didn't take his mike off.
On to the groups! Illusion Confusion has a terrible name and their ties are too short, and they will have plenty of time to fix all of that because they didn't make it. 2Squar'd say their bank account is "zero on zero," which … wait, are bank accounts expressed in fractions? Am I doing something wrong, or are they? They're out, too. But the Brewer Boys are in! They kind of rush us through this!
Paula dithers over 4Shore. They have great harmonies, she says, "but who is the lead? You've got to have a lead!" She passes on them for this reason, and the entire scene is scored to Boyz II Men's "End of the Road," the longest-running No. 1 single of all time by the most-successful R&B group in history, who did not have a lead.
And finally, the boys. Who are across the board not terribly impressive. Brian Bradley is first up, and I think he's a shoo-in, but I'm starting to doubt myself tonight because I've been mostly wrong. Sadly, I am not wrong about this. Brian expresses his joy by "popping the top of [his] shirt," which is pretty much exactly what Fred Armisen does as Joy Behar in those SNL The View sketches. Very cool!
Skyelor, Nick, Brennin, and Phillip are up next. L.A. passes on Skyelor, because "singing country will limit you." (Though not singing at all somehow does not limit Brian.) Nick is sent home to add six or seven more belts to his outfit. So it's Brennin or Phillip, and while Brennin would be a joy to root against all season, I'm starting to root for Phillip and his jauntily cocked hat. He makes it through. Brennin says, "I know this is going to affect me for a while." Brennin has to tell you what he's feeling, because Brennin is always doing Blue Steel with his face. Best of luck to you, Brennin; I hope there's a place in this world for a handsome heterosexual 26-year-old man.
Phillip, meanwhile, really ought to thank his orthodontist. Those are some serious teeth.
Now that we're really getting into it, The X Factor is a show that only a self-aggrandizing billionaire talent scout could have created. You can practically hear Simon make the pitch: "It'll be like American Idol, but more about the judges. How are the judges feeling? How hard is this for the judges? Which of the judges will win?"
Each judge has his or her own special way of hogging the spotlight. Simon knows he's making television, so he says things like "You are the best singer I've ever heard, which is why it's so hard to make this decision, which I can't take back, so you will be happy to know, it's not good news, it's fantastic news, you are not ... NOT GOING HOME." Nicole is a master of making it all about herself; she's going to have a great reel at the end of this thing. She does, however, seem to crawl up the back of her couch when she's sitting with the olds, as though they were terrifying elderly spiders. Paula just talks and talks. L.A. is the only one who crisply and knowledgeably says what he means. Too bad he's stuck with the boys, who are shitty.
Back to the results! Jazzlyn Little doesn't make it, because she bonked due to nerves! Tiger Budbill is back to wedding-D.J.-ing, and I swear I will post his booking info here just as soon as I get it; you know he leads a mean Electric Slide. Leroy Bell makes it, and Nicole wraps herself around him in an attempt to suck out his life force, which you kind of can't blame her for.
On to Meth Guy! Meth Guy worries me, as do all meth guys! One thing: He is consistently referred to as a "trash collector," but the b-roll they use to illustrate it is a shot of him emptying one kitchen-size trash can into a dumpster. I think maybe he is not being a trash collector the right way. But what do I know? He lives to worry me for at least another week.
Then InTENsity and Lakoda Rayne get their news. There can only be one! Except no, there can't, because they both make it. My God in heaven, there are still so many people in this show.
Caitlyn Koch doesn't get through, and there is a flash of anger in her face that suddenly makes her a very believable rugby player. Tiah gets a yes, because of course she does.
I am sorry to report that Tim Cifers's children will never learn how to fish; Tim and his Affliction T-shirt collection are going home. Marcus Canty goes forward, as I knew he would, so now I'm batting around .005.
The Stereo Hoggz are dressed like prom night on Saved by the Bell, and the Anser continues to be memorable mostly for the one guy's eyeglass frame collection. There is only room for one more, and it's ... the Stereo Hoggz! Good-bye, Anser! Good luck being gayish and Mormon.
Watching so many good people go home is kind of exhausting.
Now it's down to Stacy Francis or Elaine Gibbs, and there's just no outcome that won't be horrible. And indeed: It's a no for Elaine Gibbs and a yes for Stacy Francis. To review: Simone Battle and Dexter Haygood are in, Elaine Gibbs is out. This shit is bananas. But, as Dexter so eloquently put it in his audition: "Let the body come a cheer Suzuki."
Rachel Crow will for sure make it through, and I kind of wish she wouldn't, because I fear the attention will freeze her forever in this developmental stage, and soon we'll be looking at a Baby Jane kind of situation. Alas, she's in.
Which means Melanie Amaro is out! Except she isn't! Because Simon made a mistake and since he's the boss he can kind of do whatever he wants! So he goes down to Florida to offer her for the first time in X Factor history a seventeenth spot on the show. And he does it in the most regal way possible. He knocks on the door, silences Melanie's father with a finger to the lips, and just lets himself into their living room. Jesus, Simon, why not just bring a footman? She says yes, of course. Good!
The show ends with glamour shots of our top seventeen, and everyone is turned out. Even ol' Josh has taken a trip to the blowout bar. Next Tuesday, we will see them perform for the first time! And then I guess they start getting eliminated? Will there be seventeen more weeks of this? What have I gotten myself into? Will there always be this much phony drama? Oh, no, sweetheart: The X Factor and I aren't fighting. We're just talking loudly. We're still a family. You go on back to bed.