The X Factor Recap: Wait! It's Actually Starting to Get Fun!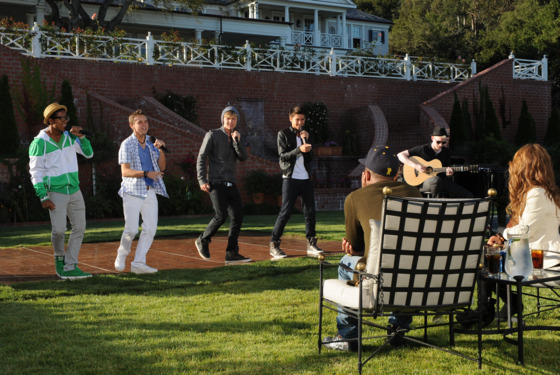 Ladies and gentlemen, it is on like B.D. Wong. Tonight, I started truly enjoying The X Factor. I'm as surprised as you are.
Okay, it's still way too long. Four hours a week is, at this stage, far too long a time commitment. The producers still want viewers to believe that everyone over 30 is some kind of elegant tragic creature. And there are still way too many people, but that's about to get fixed, as 32 must become 16! Which they'll almost certainly stretch out into another night. This show is in no particular hurry to do anything.
But it's starting to get fun!
Not right away. Tonight's show starts with shy teenager Jazzlyn Little, who is nervous in the awful way. We are shown a long shot of her shakily trying to raise a bottle of water to her lips, and it's like if Allen Carr had produced The Blair Witch Project. Jazzlyn sings well enough, but you do suspect that Simon will put her through to the next round just to see what happens. Deep, cleansing breaths, Jazzlyn!
On to Brennin Hunt, whose major concerns are that he is 26 and too handsome. Brennin tells us that if he doesn't make it to the next round, "it will eat [me] alive," which is something you should only say if you're absolutely certain you're not someone people would like to watch get eaten alive. Oh, and he wears one of those deep V-neck T-shirts. He is a medley of things I hate. You know how performers on It's Showtime at the Apollo rub the trunk of the Tree of Hope for good luck before they go out onstage? I want to punch Brennin Hunt in the face before I do everything. As for his performance, Rihanna sums it up perfectly: "He is beautiful, and his tone is correct at times."
Really! We are almost at the point in the show where I start enjoying it …
The Stereo Hoggz boldly reveal that they would like to live in a large house, on a yard with no ants. Which seems ambitious and nitpicky at the same time, but fine. Their version of "I Heard It Through the Grapevine" is pure joy, and though Paula and Pharell think only one of them is a star, I found them all charming and capable. I am now onboard with The X Factor! Fine work, Stereo Hoggz! (It's because they want to be on all the stereos, is why they're called that. Improvement opportunity, Stereo Hoggz!)
Now, I have worked in television since 1957, and I am absolutely positive that if Josh Krajcik asked around, someone nearby would have a hairbrush. I know I've harped on this poor guy and his hygiene, but you feel me, right? Even through the TV, you can tell this dude smells like lunch. And there is probably a reasonably handsome guy underneath there. Are the makeup ladies forbidden to touch him? He sings "The First Time Ever I Saw Your Face," and it's beautiful — until you see his face, and there are thick ropes of saliva connecting the top and bottom rows of teeth. I like this guy, though. Really. Just, you know, a cotton ball and some Sea Breeze and we're in business.
Tim Cifers tells us he needs to win The X Factor, because that's the only way he'll be able to teach his kids how to fish. No, that's really what he said. I rewound it and everything. Unless Tim Cifers wins $5 million, he will not be able to find a lake on a map. I haven't a clue what the fuck he means by that, and neither does he, but shoosh — he's on a roll now. Tim's son said he'd be praying for him and gave him his special stuffed monkey for good luck, which, I'm sorry, but: pics or it didn't happen. His version of "Dance With My Father" is decent, but he swears that if he doesn't make it, "all [his] dreams are out the winda." Settle down, Li'l Abner. Message received.
Tween moppet Rachel Crow does a really interesting, torchy version of "I Want It That Way." Would you like to freak out a little bit? Contemplate this: "I Want It That Way" was released before Rachel Crow was born. I'll be right here when you're ready to continue with this.
Back? Great. I'm going to breeze through some of the people who didn't make too much of an impression:
• 2 Squar'd do a lite-R&B version of "Bohemian Rhapsody," and their interview package is scored to "Sisters Are Doing It for Themselves." "Sisters Are Doing It for Themselves": the choice of unimaginative music directors since 1986.
• Leroy Bell has a lovely, understated tone, but it's so understated I fear he'll be going home. But he will live to be 140 and will have better arms than me the whole time, so I'm not worried about Leroy.
• Illusion Confusion's song is intercut with their interview, which is the producers' way of saying, "Don't get too attached to these guys."
• Marcus Canty is making it through and that's that. He's exactly the kind of person a show like this needs. Not much more to say.
• Tiah Tolliver continues to have a very shiny mouth area, and the sounds that issue forth from it continue to underwhelm. But Simon loves her, and there's no Mariah Carey to disagree with him (and she wouldn't anyway), so Tiah's a shoo-in.
Tiger Budbill is underemployed as a wedding D.J. and has managed to delay the foreclosure of his home for a couple of months. Tiger Budbill is the 99 percent. He serves up some Billy Vera realness in his vocal, and I like him, but oh I worry. I think it's either him or Josh Krajcik, and the prospect of a mid-season makeover of the latter is too tantalizing a prospect for the producers to refuse.
Christa Collins tells us that she was the first vocalist signed to Disney Records, which went on to discover Britney Spears and Christina Aguilera. She walked away from the limelight at 16 because it was too much work, and now she wants back in, presumably because she now knows what "too much work" means. Christa sings a show-tuney version of Radiohead's "No Surprises." Let me say this: To see a former child star in elaborate makeup on a big, splashy TV show performing a song about bringing down the government at this particular moment in history is just somehow totally right. It's the inverse of Whitney Houston singing the National Anthem during the first Gulf War.
And now, the franken-group put together by the producers: InTENsity! Because there are TEN of them! Because enormous groups of children are popular now! Who are your eight favorite members of InTENsity? It's kind of a Gap Kids Polyphonic Spree situation as they tear into a mash-up of "That's Not My Name" and "You Make My Dreams." Totally infectious and cute, but I have one note: The song is "That's NOT My Name," but the kids say their own, actual names in it: "They call me Nick!" "They call me Audra!" "They call me Bris'Leigh!" (Note: There are a lot of children here, and I might not be 100 percent solid on all their names.)
Meth Guy is last, and his vocal is decent enough, but I am mesmerized by how super-methy his physical affect is. Are we sure this isn't some elaborate Christian Bale performance?
All right, my friends: Would you like to make it interesting? On Tuesday, the top sixteen will be revealed (in the slowest, most excruciating way possible), and I will now reveal my predictions. You may do the same in the comments! It's what I call interactive media! No wagering, please.
BOYS
Brian Bradley
Brennin Hunt
Marcus Canty
Meth Guy
GIRLS
Tiah Tolliver
Rachel Crow
Drew Ryniewicz
Caitlin Koch
GROUPS
Stereo Hoggz
The Anser
InTENsity
Lakoda Rayne
OVER-30s
James Kenney
Christa Collins
Josh Krajcik
Elaine Gibbs. Or Stacy Francis. Or Tiger Budbill. Honestly, I don't know. But I'm certain that the ones in this category who don't make it are finished because this was their last chance.
I'm probably wrong. I thought Lone Star was going to be huge. See you Tuesday!
Photo: Jeffrey Niera/FOX