50 Cent Is Ready to Be a Rapper Again
He's got a mixtape dropping shortly, and the first track is here.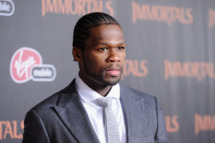 Noted young-adult author and soon-to-be Bones scene-stealer 50 Cent is ready to return to the discipline that gave him fame, dropping a mixtape called Big 10 sometime soon. He'll also be tweeting poorly about it. If you're on the fence, 50's endorsement of the new release reads, "The BIG 10 mix tape is gonna be crazy better then most albums this year. Trust me lol."
Hear the first song, a burbling-bass-lined, unsurprisingly boastful track called "Stop Crying," below. And don't forget, "You have to look at everything very closely that [you] do from this moment on," 50 says.