Aaron Sorkin 'Strongly Considering' Writing Steve Jobs Biopic
He's thinking about it.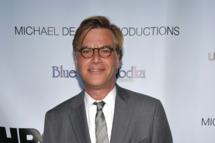 Aaron Sorkin says he's "strongly considering" writing the Steve Jobs biopic Sony wants him to do, which would complete his brilliant-guy-who-changes-everything trifecta. "Right now I'm just in the thinking-about-it stages," Sorkin tells E! Online. (Don't worry, the head-butting stuff stage comes later.) Sorkin says he's reading Walter Isaacson's Jobs biography, but that's about as far as things have progressed. "It's a really big movie and it's going to be a great movie no matter who writes it," Sorkin says, which is almost certainly false.