V for Vendetta Author Finds Use of Guy Fawkes Masks 'Peculiar'
And he's not a big Time Warner fan.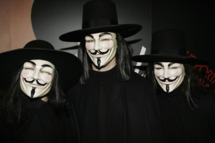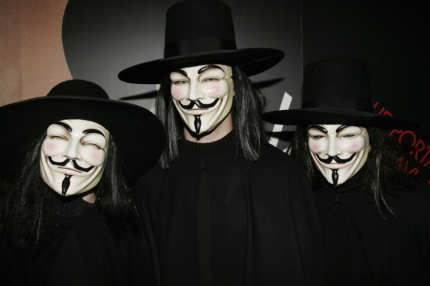 Comic-book author Alan Moore popularized Guy Fawkes masks with V for Vendetta, but he says he still finds it strange to see the grinning visage's popularity among protesters at various Occupy outposts across the world. "I suppose when I was writing V for Vendetta I would in my secret heart of hearts have thought: wouldn't it be great if these ideas actually made an impact?" Moore says. "So when you start to see that idle fantasy intrude on the regular world … It's peculiar," he tells the Guardian. "It feels like a character I created 30 years ago has somehow escaped the realm of fiction." Maybe even more peculiar is that Time Warner owns the rights to the mask, so each activist who buys an official version is also lining the company's coffers. "I find it more funny than irksome," More says. "It's a bit embarrassing to be a corporation that seems to be profiting from an anti-corporate protest," he says. "I find it comical, watching Time Warner try to walk this precarious tightrope."