Full Monty Director Will Make Bridget Jones's Baby
He's replacing <em>Bridesmaids</em> helmer Paul Feig.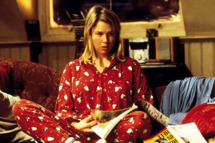 For a while there, it seemed like director Paul Feig was going to follow up his blockbuster Bridesmaids by helming the third Bridget Jones movie, but after Feig bailed last month, Peter Cattaneo (The Full Monty) began circling the project. Now, Deadline reports that he's in talks for the sequel, which will be titled Bridget Jones's Baby, a likely confirmation of the story line once spilled by Colin Firth: Namely, that Bridget (Renée Zellweger) and Mark Darcy (Firth) have trouble conceiving, but an ill-advised romp with Daniel Cleaver (Hugh Grant) manages to put her in a family way. Well, Hugh is very good at surprise pregnancies.