Bruce Springsteen Announces New Album
The Boss gets set for a busy 2012.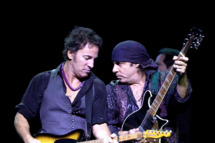 Ever think to yourself that there's not nearly enough Bruce Springsteen music out there for you to listen to? If so, you're in luck, as the legendary musician took to his website tonight to announce that next year will see the release of an eighteenth studio album and tours of both America and Europe. In a quaint and cheery note, Springsteen writes that "things are starting to heat up down on E Street" and that recording of a new album is just about done. Though he doesn't know what it will be called or exactly when it'll be out, Springsteen promised to update inquiring minds soon. While news of the album is welcome for fans of the Boss, it is also somewhat bittersweet, as it will be the first release from Springsteen and the E Street Band since the passing of Clarence Clemons this past June.