Daniel Radcliffe to Play Allen Ginsberg
In the indie film <em>Kill Your Darlings</em>.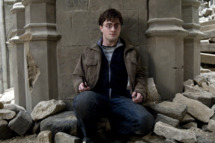 Harry Potter is growing up. Twitch reports that after Daniel Radcliffe finishes his Broadway run in How to Succeed in Business Without Really Trying, the actor will play young Beat poet Allen Ginsberg in the indie Kill Your Darlings, a gay-themed drama about the budding friendships between Ginsberg, Jack Kerouac, and Lucien Carr, which were marred when Carr killed his older admirer David Kammerer. Radcliffe takes over for Jesse Eisenberg, who was first attached to the role in 2009 along with Chris Evans (Kerouac) and Ben Whishaw (Carr); the rest of the new cast has not been announced. No word on how much poetry Radcliffe will have to recite, but at least the eyewear will be familiar.