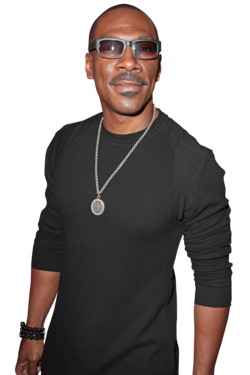 The Star Market: Can Tower Heist Break Eddie Murphy Out of His Family-Film Rut?
Once upon a time, back in the mid-eightes, Eddie Murphy was so foul-mouthed and influential that Bill Cosby himself called to complain about the effect Murphy's comedy was having on his children. This story is a highlight of Murphy's 1987 comedy film Raw; it's also a stark reminder of how much the Murphy brand has changed. Once the breakout star of Saturday Night Live and Beverly Hills Cop, after a string of flops, Murphy switched from bad role model to kid-friendly star, and he's spent the last ten years shunning the spotlight, save for his zany appearances in family films. With Tower Heist, opening today, and his looming gig as the host of the Academy Awards, Murphy is making a play for grown-ups, but will audiences still accept him as a real comedian? To find out, we spoke to industry insiders to answer the question: If Eddie Murphy were a stock, should you buy, sell, or hold?
Stock History: As the savior of an ailing Saturday Night Live at all of 19, Murphy quickly had his pick of comedy roles, and his early string of movies — 48 Hours, Trading Places, and Beverly Hills Cop — are among the eighties' most memorable and commercially successful comedies. His 1983 Delirious and 1987 Raw remain seminal in the stand-up canon (even if they don't hold up as well in 2011), and even his brief music career yielded a hit: the ear-wormy "Party All the Time," which, despite having since become a punch line, actually reached No 2. on the Billboard "Hot 100." But his choices took a turn after 1990's Another 48 Hours (which came right on the heels of the only film Murphy ever directed, Harlem Nights, which was critical and commercial flop). A Vampire in Brooklyn followed The Distinguished Gentleman which followed Boomerang, and in 1994, Murphy gave the New York Daily News a quote that would more or less define him for the next fifteen years: "I stopped thinking in terms of career $80 million ago." What came next was an unfortunate series of profitable pablum, pre-designed for sequels (The Nutty Professor, The Klumps, Dr. Dolittle, Shrek) punctuated by some of the biggest outright bombs ever made (Pluto Nash, Holy Man, Norbit, Meet Dave. Imagine That.) and a blossoming reputation for being difficult that wasn't helped by his infamous arrest with a transvestite in 1997, after which he more or less stopped speaking to the press. With the exception of his Oscar-nominated turn in Dreamgirls (an atypical choice that one producer chalks up to an attempt "to overcome the whole ['Party All the Time'] one-hit-wonder thing," and that didn't result in an Oscar for Murphy largely because of his reputation problem), Murphy has coasted on a series of lucrative family movies for the better part of two decades.
Peers: It'd be easy to say that Murphy is in the same league as Martin Lawrence (46), because he, like Murphy, resorted to fat suits and family comedies. Or that he's in the same league as Jim Carrey (49), because he came from sketch comedy but wound up getting an Oscar nomination along the way. But as one agent puts it, "He's worked alone for so long, he's almost in a category by himself: Eddie Murphy went a solid twenty years without hearing the word 'No.'"
Market Value: In his eighties heyday, Murphy could bring in $200 million at the box office (Beverly Hills Cop). Even Raw, his second stand-up film, earned $50 million in theaters. But with his reinvention as a zany family star, Murphy's individual draw is a fraction of what it used to be, and he's remained stubborn about his $20 million asking price. A giant franchise like Shrek could afford to overpay him (he's understood to have made more than $60 million from those movies), but his most recent kid-friendly vehicles, 2008's friendly alien adventure Meet Dave, grossed only $11 million domestically, and Imagine That just $16 million. Not promising is that after Tower Heist, he's slated for A Thousand Words, another project with the creative minds that brought you Norbit and Meet Dave.
What Hollywood Thinks: "For years, he wouldn't meet writers, wouldn't meet directors," says one talent agent. "You just had to bring him the offer. The problem was that he made a number of bad choices." It would be more accurate to say that Murphy made one choice, over and over and over again: money. While other top stars would routinely cut their prices to do projects they loved or coveted, Murphy said yes to whatever could pay, and, after the failure of his directorial debut Harlem Nights, which he also wrote, stopped expressing interest in passion projects.
"He's gotta re-create himself and become about being an actor," says another agent. "Otherwise, I think he's pretty much done." Done, because even Murphy now knows that the movie business has changed, seismically, in the last few years. DVD sales dived, and with them, the town's ability to overpay him. "He was notorious for not doing the press. But the business has changed quite a bit; you can't do that anymore. You have to do the press. You have to play the game." Adds our producer, "It's the dawn of a new day — even in Eddie Murphy's world. No one, except maybe Will Smith and Adam Sandler, is getting their quotes met anymore."
In a recent Rolling Stone interview to promote Tower Heist, the actor promised to make some of the necessary career adjustments. (Indeed, the sheer fact that Murphy was talking to the press to promote a film — something he'd stopped doing around the time of his 1997 arrest — suggested he was already making significant changes.) And agents say a different Murphy appears to be making the rounds in Hollywood's agencies. "Now he's opening to meeting with emerging writers, finding that new director," says a third agent, "It's about finding the two-hander, where it's about him and another guy."

Part of the change that's come over Murphy is that his longtime agent was forced out as head of the William Morris Agency after its merger with Endeavor. "When it was Jim Wiatt representing him, there wasn't an openness to creative deal-making, perhaps because he'd been in his life for so long," says one agent. "Now he has [Adam Sandler's agent] Adam Venit in his life, so Adam has the ability to come at him with new angles."
Then again, this agent continues, Murphy has little choice. "With the exception of Adam Sandler and Ben Stiller, no one in Hollywood seems to be able to pull off a comedy by themselves anymore. The industry changed seismically in the last few years. If you're not consistently having monster openings, then you're not going to be able to get that deal you once got." Our second agent dishes, "For Tower Heist, I know he certainly didn't get anywhere near his payday, and he didn't get all of his perks. His longtime makeup artist? They wouldn't pay for her to come to New York and pay to have her put up. He had to use whomever they hired for the movie."
The Analysis: Murphy's phoned-in family film career has alienated his original fan base and failed to earn a new one (beyond Shrek fans, who now think of him as an animated donkey). "He needs to start taking his career seriously again," offers one publicist we talked to. "Because if he doesn't, why should America?" This publicist adds that his scandals and resultant low profile have taken their toll. "Murphy has been irrelevant for so long. The question is not what people think of him, but if they think of him at all."
With Tower Heist, Murphy has returned to his rough-and-tumble form, agents say, and even as they admit the film's tracking is mediocre, they think "there could be a resurgence for Eddie. People want to see the edgier Eddie Murphy." Murphy will be well served if he truly has stopped insisting on massive paydays that leave room for no one else. If Tower Heist marks an actual shift in Murphy's strategy, rather than another Dreamgirls-like blip in his autopilot career, then our experts think he could find his audience again. (Whatever his post–Thousand Days project is will serve as a better indicator of his intent.) But more than even Tower Heist, what will influence the town's perception of Murphy is how he handles the Oscars next year. "If he pulls that off, it will matter," says one agent, " People notice if people do really badly, or really well."
Rating: Weak Sell or Strong Hold, at least until after the Oscars.
Photo: Louis Burgis/Splash News