Ewan McGregor Signs On to HBO's The Corrections
It's his first TV series.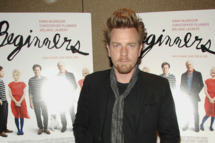 The much-anticipated HBO adaptation of Jonathan Franzen's The Corrections recently cast Dianne Wiest and Chris Cooper to lead its central family, and now they've landed a big fish to play one of the offspring. Ewan McGregor has signed on to the Noah Baumbach–directed project, and he'll play middle sibling Chip, with an additional brother and sister yet to be cast. Should the pilot go to series — and with this pedigree, we'd be shocked if it didn't — the gig would rep McGregor's first series regular role on television and first TV appearance of any kind since he guested on ER back in 1997. Hey, is that on YouTube? Oh good, it is — and with crazy dubbing to boot!