Frank Ocean Brings Guitar Hero, Neverending Story to the People of New York
No hats, though.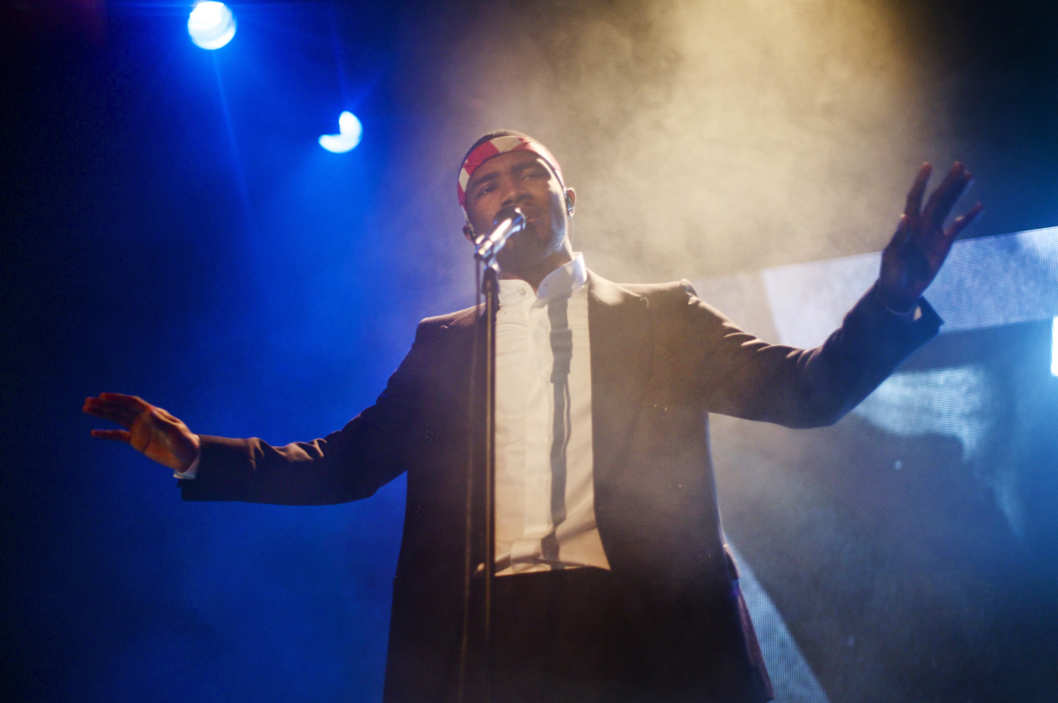 Earlier this month, at around 8 p.m. on a Sunday, Frank Ocean announced on Tumblr that he'd be postponing his first New York concert, planned for that very night, owing to vocal health issues. Ticket holders who'd already showed up to the Bowery Ballroom were given large, possibly racist paper hats and sent back into the night to complain (which they somewhat reasonably did, mostly on Tumblr). For some artists, this less-than-savvy scheduling might result in audience blowback, but Ocean added a second show for his makeup date, and if Twitter reports and Vulture's own casual observations are to believed, both concerts were pretty close to capacity. No one, as far as we can tell, dared heckle Frank (instead, someone at last night's show handed him a plastic-wrapped gift we'd like to believe was a novelty hat), and the polite, quietly adoring energy seemed to indicate that all was forgiven.
Ocean, for his part, rolled up in a slick dark suit (plus bandana) and returned the politeness in spades. It's weird to think of this charming, slightly reserved 24-year-old in the context of Odd Future; Frank was so calm, and almost gentlemanly (especially before he took the jacket off; Vulture remains a big fan of the full suit look), with nothing but love for the ladies. It was a simple setup: Ocean stood alone on the stage, with a giant video screen behind him projecting clips from video games and movies like Neverending Story. We found the background a little distracting during "Super Rich Kids," a confusing new slow jam about, well, rich kids, but it paid off when Frank grabbed a Guitar Hero controller and pretended to play the "Hotel California" solo in "American Wedding." He did this Sunday night, too — most of the Monday show, from the set list to the video games, was a reprisal of the previous night. At times, especially during the Watch the Throne medley (half a song from each, no rapping), it felt a little rushed, like maybe Frank was getting nervous up there all by himself without his more outgoing buddies (Odd Future, Kanye — take your pick). But then he'd break out the falsetto and hit every note, and you totally forgot that random communist propaganda footage was playing behind a song that's usually fronted by two very famous rappers. There were no free hats as we exited the building, but the audience didn't seem to mind.