Game of Thrones Actor Lands Arthur and Lancelot Lead
Kit Harrington will star opposite Joel Kinnaman in the new movie.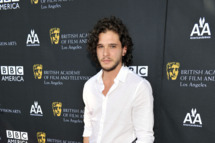 Where are the new Leos, Tobeys, and Jakes? On cable television, apparently. Warner Bros. already cast The Killing's Joel Kinnaman as Lancelot in their big-budget retelling of Arthur and Lancelot, and today, Variety reports that the production has added Game of Thrones star Kit Harrington (who plays Jon Snow) as King Arthur. It's rare that a big studio would stake a major franchise starter on two relative unknowns from first-season TV shows, but both actors come Vulture-approved, and at the very least, won't it be fun to study their patchy facial hair on the big screen?