Comedian Greg Proops Gives Vulture the Five Podcasts We Probably Aren't Listening To
The five we should be listening to but aren't.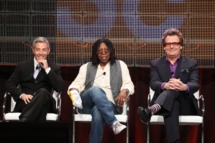 Comedian Greg Proops checks in today with a special appearance on Vulture Recommends, giving us his five favorite podcasts underappreciated by the world at large. (Proops himself hosts a podcast, The Smartest Man in the World, but that's neither here nor there.) If you're inclined to take his word for it, you should check out Jackie Kashian's Dork Forest, an auditory monument to all things dorky, or Comedy Film Nerds, the subject matter of which speaks for itself. Neither a dork nor a nerd? Try Superego, subtitled "Profiles in Self-Obsession." Apparently comedians love personality issues.