The Killing Is 'a Cautionary Tale,' Says Homeland Producer
And it's more "psychological" than <em>24</em>.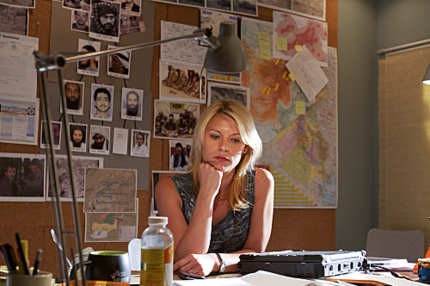 "Clearly The Killing is a cautionary tale at some level to us," says Homeland creator and executive producer Alex Gansa. It's a cautionary tale to us all, friend. Gansa stops short of Dan Harmon levels of rage against the frustrating AMC series, though. "I don't want to cast stones at The Killing, because I thought The Killing was unbelievable, and incredibly evocative," he tells the Hollywood Reporter. But according to Gansa, The Killing was all about piecing together things that happened in the past, while Homeland is more oriented toward current and future threats. Gansa also thinks about Homeland in contrast to his previous work: " ... Whereas 24 was an action-thriller response to 9/11, [Homeland] is a psychological response to where the country is 10 years later," he tells Mother Jones. Better than The Killing, more psychological than 24. We'll take it.