How Jesse Tyler Ferguson Came to Hold Kathy Griffin's Breasts in a Magazine
"And the next thing you know, I took my top off and I said, 'Let's just get a topless picture because we're just so pale.'"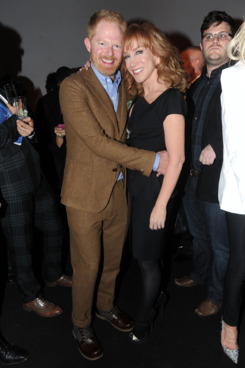 Kathy Griffin and Modern Family's Jesse Tyler Ferguson are both on the cover of Out's latest issue (the annual Out 100 issue), but it's on the inside that things get serious: Griffin and Ferguson re-created Janet Jackson's infamous Rolling Stone cover (you know, this one), with Griffin taking over for Janet and Ferguson for the hands. At last night's Out 100 party at the Skylight Soho, we spoke with both Griffin and Ferguson about how the impromptu image came to be.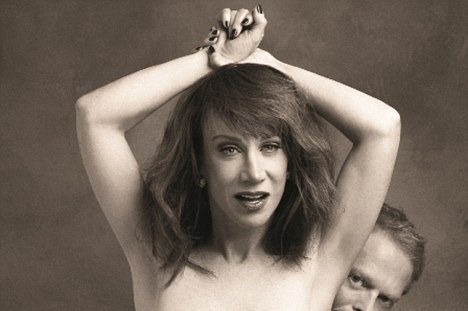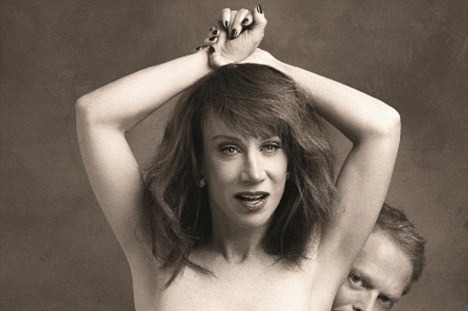 "That was actually an outtake, so that was a spontaneous moment," Ferguson explained. "She kind of said, 'You know that really iconic Janet Jackson shot?' And of course, the minute she said that I knew exactly what she was talking about, and I could only imagine my role in this scenario, and I thought, Oh my God, my hands are going to be on your breasts, aren't they? When she took off her top and I realized this was really happening, I thought, Warm up the hands and let's go! It was her idea."
Griffin readily accepts credit for the shot. "Inspired genius. Admit it, inspired genius. That's why I'm a genius," she bragged. "It was completely impromptu, because we were doing sort of classy shots, you know, I got to re-create an iconic Vogue cover, and then I said we should get a personal picture just for us, to goof around. And the next thing you know, I took my top off and I said, 'Let's just get a topless picture because we're just so pale.'" He was sort of saying, "Okay … I guess so." And then I took my top off — which Jesse Tyler wasn't too excited about, if you know what I'm saying — and then I said, 'Oh, come on, put your hands over my boobs like Janet Jackson.' And we took a couple fun pictures, and I said to the photographer, 'You should just get this for fun.' And I'm really actually excited it ended up in the magazine."
Griffin says that Ferguson was initially a little nervous about copping a feel. "He was shaking like a leaf!" she recalls. "And I said, 'What are you shaking for? It's not like we're going to go home together.' And he said the cutest thing; he said, 'I just want you to know, all these years I've been watching you on TV, I never imagined this.'" Surely not helping Ferguson's nerves was inexperience: When we asked if this was his first time handling a woman's breasts he replied, "Uh, in recent memory, yes."