Ice Cube Might Make Another Friday Movie
And Chris Tucker might come back!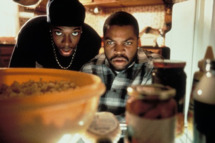 Cube is reportedly in talks to write, produce, and star in a fourth installment of the stoner series; there's also a chance he could direct the movie. Even better, a random TMZ street interview with Tiny Lister yielded the news that Chris Tucker, who ditched out after the first Friday, might come back to play Smokey. (Part of that intel comes from a conversation Lister had on Tucker's private jet.) Deadline is skeptical that Tucker would return, referencing his previous religious misgivings about the movies' content. But the first rule of private jets is that you don't lie about Friday remakes on a private jet, and so Vulture has faith in Tiny Lister. Now to the truly important questions: What will this movie be called? (Friday 4: Fast and Furious?) And will Rebecca Black make it onto the soundtrack? Get on those phones, RB; this is your time.