Investigation Into Natalie Wood's Death Reopened
Well, this is unexpected.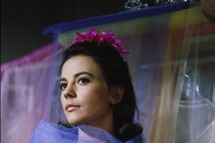 Well, this is unexpected. Thirty years ago on Thanksgiving weekend, actress Natalie Wood perished in a tragic drowning near Catalina Island, and despite the mysterious circumstances (she was on a yacht with Christopher Walken and her husband, Robert Wagner, at the time), her death was ruled an accident. Now, TMZ reports that the case has suddenly been reopened as a homicide investigation after investigators were contacted by people who claimed to have vital new information on the matter. The L.A. County Sheriff will have more to say on the subject at a press conference tomorrow morning, and we imagine both Walken and Wagner will be all ears.