Just How Awful Is Adam Sandler's Jill Character in Jack and Jill?
Really, really awful.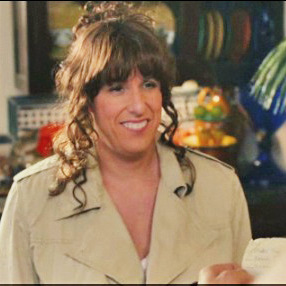 Adam Sandler's twin drag comedy Jack and Jill opens today, and the reviews are in: It's pretty terrible! That was clear from the joy-draining trailer, but what wasn't clear was just how unpleasant Sandler's Jill character was going to be. Al Pacino takes some abuse in the reviews, too ("You start to wonder if they drugged him," writes David Rooney in the Hollywood Reporter), but the real vortex of ire is reserved for Sandler's drag alter ego Jill.
"His Jill is a whiny shrew, an underminer, with shoulders like a linebacker and a speech impediment that makes her sound like an idiot... The Anti-Defamation League should picket the movie for crimes against Jewish women. The Friars Club should picket it for crimes against comedy." [NY Mag]
"I forgive Jack for hating his sister because I hate his sister ... She's also overbearing, oblivious to social cues and (shudder) has unresolved incestuous feelings for her brother ... " [Time]
" ... whiny, smothering and easily humiliated Bronx spinster ... " [LAT]
"Sandler's Jill is such a honking Bronx battle-ax that she doesn't convince as a human character, male or female ... " [USAT]
"To the extent Jill has any reality for the audience, she is a washout, a whining, self-pitying, loud, witless, insufferable character who never shuts up and never says anything worth hearing." [SF Gate]
" ... out comes the stuffed manssiere for Jack and Jill, in which Sandler goofs around in a dual role as an LA ad exec and the screechy twin sister he can't stand. You may well feel likewise." [Boston Herald]
" ... Jack's obnoxious Bronx cheer of a sister ... " [Orlando Sentinel]
" ... loudmouthed, clingy twin sister ... " [Variety]
"She is dumb — she doesn't know what the Internet is! — crude and physically grotesque, and also loud and needy. She leaves sweat stains on the bed and talks in a high-pitched nasal singsong, broadcasting her feelings at maximum volume." [NYT]
"Jill is his needy, aggressively obnoxious twin sister ... " [NYDN]
"Jill (Sandler) is the comedian's former id — a loudmouth New Yorker desperate for attention. Jill is a hot mess minus the hot (though her makeup and clothes are actually kinda cute). She's needy, sweaty and — gasp! — still single at 42." [Box Office]
"The only blip is his twin sister Jill, a manly (natch) spinster from the Bronx who comes once a year for the holidays and disturbs Jack's SoCal zen with her crassness, neediness and overall ickiness." [Movieline]
" ... Jill, an overweight, abrasive harpy with a room-temperature I.Q ... " [WP]
"There might have been a sweet comedy here if Jill had been treated like a real character. In theory, she's a meek homebody — lonely, socially challenged and starved for affection, craving quality time with her resistant 'wombmate.' But physically, she's never more than Adam Sandler galumphing around in a wig and a dress, acting dorky." [THR]
"Sandler goes so far over-the-top as Jill — a whiny, needy New Yorker who has never used a computer, has never eaten Mexican food and, apparently, has never gone out on a single date — that I was gritting my teeth 15 minutes in." [Miami Herald]
Related:
Vulture's Five Least Anticipated Films of the Fall
How Ben Stiller and Eddie Murphy Connect Every Single Buddy Comedy
Nostalgia Fact-Check: How Does Adam Sandler's Early Work Hold Up?
Critics' Best Backhanded Compliments of Michael Bay and Transformers: Dark of the Moon