Julie Delpy to Direct Joe Strummer Biopic
The future, while unwritten, will be directed by Julie Delpy.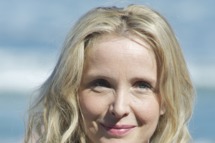 After starring in, co-writing, and/or directing some well-received films (Before Sunset, Before Sunrise, 2 Days in Paris), Julie Delpy's career seemed to come to a screeching halt after her second film as writer/director/star, The Countess, tanked on the festival circuit in 2009. Thankfully, Delpy has managed to bounce back, signing on to direct The Right Profile, a biopic about the Clash's Joe Strummer. The film will supposedly focus on the singer's life from 1982, when he dropped out of the spotlight, to his death twenty years later, but any solid story details are under wraps. In the meantime, Delpy is also working with her old Sunrise collaborators, Richard Linklater and Ethan Hawke, on a third film (Sunrise, Sunset?), reinforcing her comeback and giving Clash fans plenty of time to speculate about how The Right Profile could go wrong.