Harvey Weinstein Threatens to Make Katy Perry Broadway Musical
"I think she can play Marilyn on the Broadway stage."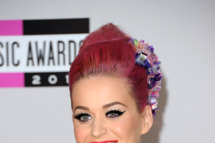 Here are two things we could have guessed at before today: (1) Since Katy Perry is hosting Saturday Night Live next month without pulling double duty as the musical guest, she would like to start establishing herself as an actual actress. (2) Since Harvey Weinstein recently mashed a Perry song and the My Week With Marilyn trailer into one highly dubious "remix" ad, he would like to be in the Katy Perry business. But still, even knowing those things, could we ever have foreseen this: "If the movie [of My Week With Marilyn] works, I would try to make it a musical and I would go to Katy first," Weinstein told E! today. "I think she can play Marilyn on the Broadway stage ... I think she would be amazing." Here are two things we now know after hearing that: (1) NBC is kind of already doing a Marilyn musical via its upcoming series Smash. (2) Harvey Weinstein is not afraid of a risky Oscar strategy that essentially argues, "Marilyn is a very difficult role that only a great actor like Michelle Williams or Katy Perry could pull off."