Katy Perry to Host Saturday Night Live
As in, she's not the musical guest.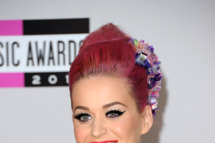 NBC announced today that the December 10 episode of Saturday Night Live will be hosted by pop songstress Katy Perry, and in true "take me seriously as an actress" fashion, she won't be pulling double duty as the musical guest (instead, that slot will be filled by Perry's frequent tour mate Robyn). Someone's been taking notes from Justin Timberlake! So which recurring sketches will the show put Perry into? Will she play yet another singing sister on The Lawrence Welk Show? After all, that sketch still has a while to go before it makes SNL's pantheon of the most overused ...