Mac 'Donald Trump' Miller to Debut at No. 1
The other Trump approves.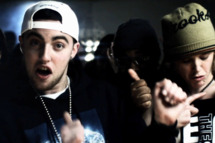 Blue Slide Park, the debut album from the 19-year-old Pittsburgh rapper behind "Donald Trump," is expected to sell more than 180,000 copies this week — enough to land Miller at the top of next week's Billboard "Hot 200." The Trump-approved (obviously) rapper faced stiff competition from albums like the Breaking Dawn soundtrack and Now 40 (40! They are on installment 40 of Now That's What I Call Music), but still, it's an impressive showing from a dude who got famous rapping about a blowhard with a combover. Also, it puts the pressure on Kreayshawn a little, no?