Jersey Shore Creator Now Turning Her Focus to Mama Drama
About moms who like to party with their daughters.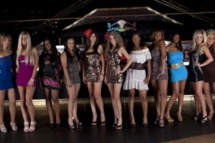 Jersey Shore creator SallyAnn Salsano has a new show for VH1 called Mama Drama, which promises to do for maternal relationships what Shore did summer vacations: make the weirdest, skankiest version of it very famous. The show follows mothers who pal around and party with their young-adult daughters, and puts five such familial units in a house all together. Salsano, who describes the show as "emotionally and visually stimulating," insists that she's not judging these families, telling the Hollywood Reporter that "even in the best of times there is no more complicated relationship than one between a mother and daughter." Some things complicate that relationship more than others, though. "My mom and I are best friends," Salsano says. "I have that in common with these girls. However, I can tell you I've never been to a nightclub doing shots and hooking up with guys in front of my mother." Consider the bar raised, Snooki.