Mike Mills Can't Believe Beginners Won at the Gotham Awards, Either
"I&rsquo;m still at the point where I&rsquo;m, like, <em>Oh my God, Nicole Kidman saw my movie!</em>"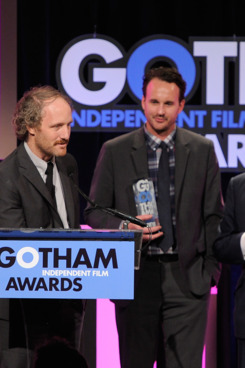 Last night at the Gotham Independent Film Awards, the jury (which included Natalie Portman and Nicole Kidman) stunned observers by handing the Best Feature award to the soulful Ewan McGregor–Christopher Plummer dramedy Beginners in a tie with Terrence Malick's The Tree of Life, and no one was more surprised than Beginners director Mike Mills. "Really, just that Nicole Kidman, Natalie Portman and ... who else was it? There was another person that saw the film — I'm still at the point where I'm, like, Oh my God, fucking Nicole Kidman saw my movie!" he laughed to us. "You know, uh, so I really wasn't prepared for this. I was really happy to be nominated, I didn't know how to ... I don't understand this part of it, but it's really, obviously, it's great." How did the filmmaker (who is married to fellow director-artist Miranda July) intend to celebrate his win? "I'm going to call my wife. And hug her through the phone somehow," he said.