New Natalie Wood Accusations Aimed at Robert Wagner
According to the boat captain.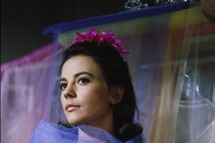 More details are emerging about the reopened investigation into the 1981 death of Natalie Wood, and they're not exactly helping the case of her then-husband Robert Wagner, who has insisted that Wood drowned by accident after falling off their yacht near Catalina Island. The captain of that boat, Dennis Davern, corroborated Wagner's story at the time, but during a media blitz today on the Today Show and CNN, he claimed, "I did lie on a report years ago. I made mistakes by not telling the honest truth in a police report." According to Davern, Wagner and Wood fought on the boat, and when she went missing, Wagner told Davern, "We're not going to look too hard, we're not going to turn on the search light, we're not going to notify anybody right at the moment." Wood's sister Lana tells TMZ that she also has her doubts about Wagner, though police claim he's not a suspect, and Wagner's rep told the site that the actor hopes "they will evaluate whether any new information relating to the death of Natalie Wood Wagner is valid, and that it comes from a credible source or sources other than those simply trying to profit from the 30 year anniversary of her tragic death."