New, Spine-Ripping Dark Knight Rises Secrets Revealed
The sequel is set several years after the last movie.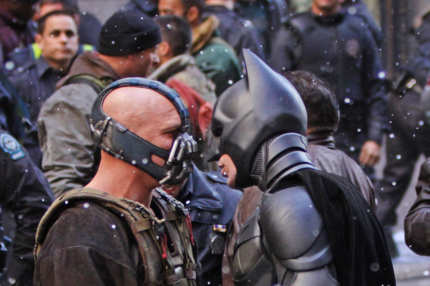 The Dark Knight ended with Batman on the run, but Christopher Nolan tells Empire that when The Dark Knight Rises begins, it won't exactly be picking up where that cliff-hanger left off. "Perhaps surprisingly for some people, our story picks up quite a bit later, eight years after The Dark Knight," the director said. "So he's an older Bruce Wayne; he's not in a great state." Tom Hardy dropped even more hints about his villainous character Bane: "He's brutal. Brutal," Hardy told the magazine, describing Bane's fighting style thusly, "Anything from small-joint manipulation to crushing skulls, crushing rib cages, stamping on shins and knees and necks and collarbones and snapping heads off and tearing his fists through chests, ripping out spinal columns. He is a terrorist in mentality as well as brutal action." As well as a Mortal Kombat character, apparently.