New Girl and Glee Return to Reduced Ratings
Should Fox have done something differently?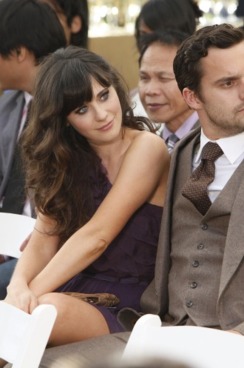 After a month-long baseball-forced hiatus, Glee and New Girl returned last night to audiences about 20 percent smaller than they had been before going off the air. Glee averaged 7.4 million viewers and a 2.9 rating with viewers under 50; the latter's score was the show's second-worst rating ever (the lowest remains an episode which aired the night before Thanksgiving 2009). Zooey Deschanel's New Girl, meanwhile, averaged 7.5 million viewers and a 3.5 rating, according to preliminary Nielsen ratings. It was the lowest-rated New Girl yet, and the show was clearly affected by the reduced tune-in for Glee: Both shows fell an identical 19 percent from their last airing. But was it all the fault of Glee, or did some last-minute schedule shuffling by Fox contribute to the drop-off? And will it matter in the long term?
Unfortunately for Fox, the optics of this all, to borrow a phrase from the political world, looked awful. The network seemed to be favoring more bloated episodes of X Factor over adorkable Zooey. Today's ratings have already resulted in a predictable chorus of "toldja!" from media pundits convinced Fox has crushed the momentum of New Girl (the announcement of X's renewal is almost like salt in the wounds). What the naysayers ignore, however, is the fact that there's a good chance New Girl would've taken a ratings hit airing on Wednesdays, potentially resulting in stories about the show not being as strong as it appeared. Ratings for the show were also declining (albeit very slowly) over its first three airings; people weren't "finding" New Girl before its hiatus, they were deciding whether to stay with it or move on. Given how big New Girl debuted, it's quite possible the show's ratings would've continued trending downward during October, even if it had aired. The upside for Fox, meanwhile, is that New Girl will now get to air several original episodes later in the season opposite repeats on other networks. That opens the door to more sampling of the show, and gives the show a chance to woo back audiences who may have moved on. Bottom line: Fox's month-long hiatus for New Girl wasn't ideal. There may have been something to the network's original plan to keep the show on in some form during October. But even at last night's levels, New Girl remains one of the season's biggest hits. And its long-term success will ultimately depend a lot more on how viewers react to future episodes and story lines than to some October scheduling moves.