No Amount of Pain Can Keep Stockard Channing Offstage
Stockard Channing: Bionic Woman.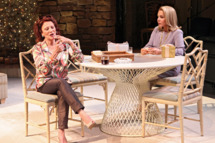 Stockard Channing is heading back to the stage of Other Desert Cities less than a week after undergoing arthroscopic surgery. She went under the knife to repair a knee that collapsed backstage after a November 18 show. The surgery kept her out of seven shows, but no more. "This is may be stupid. I don't know," Channing said. "But if it doesn't blow up or get painful, I'm doing the right thing." And if does blow up, well, she's still a healthy combination of brave and awesome.