Famous Former Nun Sues Disney for Stealing Sister Act
Maybe she just saw it?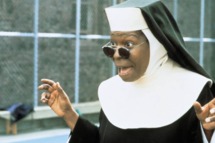 Queen Mother Delois N. Blakely, a Roman Catholic nun turned Harlem activist, claims that the 1992 classic was based on her own autobiography, The Harlem Street Nun, about a "young, Black, singing nun serving the street people and youths of Harlem." The suit alleges that Blakely sent a movie proposal to Tri-Star pictures, who expressed interest in the rights; Scott Rudin then purportedly took the project from Tri-Star to Disney, where Sister Act was made without Blakely's involvement. Blakely plans to represent herself in the suit, which names both Disney and Sony Pictures. This obviously brings up several questions — did Delois Blakely only just become aware of Sister Act? (Maybe she prefers musicals, and therefore only just saw it.) Does Delois Blakely have a gangster ex-boyfriend? And is there a Maggie Smith-like nun rolling around Harlem delivering cutting remarks? But Vulture also feels obligated to point out that Whoopi Goldberg's character in Sister Act was in fact named Deloris. Just one letter away. This is a tricky one.