Parks and Rec Finds a Political Opponent for Leslie
<em>Free Agents</em>' Kathryn Hahn.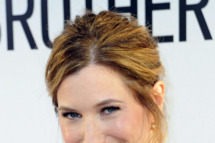 Kathryn Hahn's following up a gig on a low-rated, just-okay NBC sitcom that got the ax with a gig on a low-rated, wonderful NBC sitcom that narrowly avoided it. The former Free Agents star is set for a guest stint on Parks and Recreation, where she'll play an operative of the still unnamed candidate who's competing against Leslie for city council, according to TV Line*. On most sitcoms, that would mean Hahn's character would definitely be someone vile or evil, but Parks plays with all different kinds of adversaries. Sure, there are the villainous library folk, but Leslie's more stymied by people within her orbit, like her mother, or Shauna the newspaper reporter, or the grody but hilarious Sewage Joe. You're in good company, Kathryn Hahn.
* This post has been corrected to show Hahn herself won't be the opposing candidate.