Paul Bettany May Play Pioneering Sex Researcher
On Showtime's upcoming <em>Masters of Sex</em>.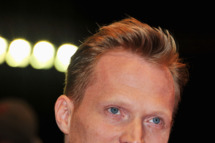 Paul Bettany is in talks for his first American TV role on Showtime's upcoming drama Masters of Sex, Deadline reports, which would be a companion piece to 2005's Masters of Horror and ABC's 2007 series Masters of Science Fiction. Ah, if only! No, no, Masters of Sex is about William Masters, who with his wife Virginia Johnson "taught America how to love," according to the biography on which the show is based. Masters and Johnson's research into sexuality and sexual physiology helped define contemporary ideas about sex, taking a more laboratory-oriented approach toward data collection than the Kinsey reports. It all sounds very interesting, but it's no sex anthology series. But what is?