Questlove Didn't Mean to Hurt Michele Bachmann's Feelings
But he didn't exactly apologize.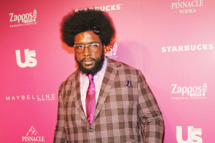 As you might have predicted, the Roots' drummer has gotten more than a little feedback after choosing to play Fishbone's "Lyin' Ass Bitch" as the walk-on music for GOP presidential candidate Michele Bachmann. (As our friends at Daily Intel pointed out, it was a little harsh.) Jimmy Fallon himself Twitter-grounded Questlove before issuing a more formal statement, apologizing for the "intro mess" and adding, "I really hope she comes back." Questlove, for his part, offered a classic non-apology: "The performance was a tongue-in-cheek and spur of the moment decision. The show was not aware of it and I feel bad if her feelings were hurt. That was not my intention." Who knows if that will be enough to keep his song-selection privileges, but Vulture sincerely hopes they're not revoked before the Roots can play "Mr. Roboto" for Mitt Romney. That's not even mean; that's just accurate.