See Gossip Girl's Version of Runaway Bride
Blair Waldorf does look nice in a wedding dress.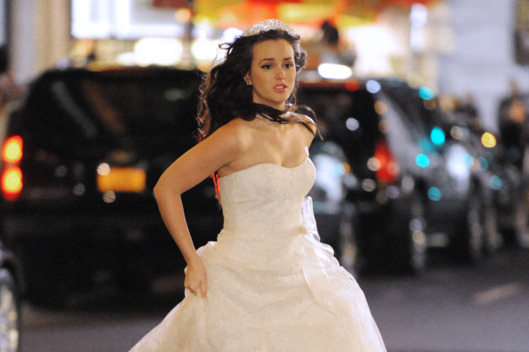 On Gossip Girl, we are getting closer to the inevitable: Blair's wedding to Prince Louis and the reason she can't go through with it. Blair's been engaged to the Prince all season (she's also pregnant with his baby, or a baby that appears to be his — for now), but it has always seemed highly unlikely she'd actually marry him. Louis's pouty lips and near impenetrable accent have been on the show for long enough; Blair has other, far more interesting romances (with Chuck, with Dan) to explore. And lo, today pictures surfaced of Blair and Louis's wedding, with Blair in full Runaway Bride mode, scampering out of a church in her wedding gown, looking distraught. Maybe Louis stood her up? Maybe she's looking for someone else? Maybe she just wanted to show off the dress? Take a peek.
BEGIN SLIDESHOW