Stallone Is Making a Rocky Musical
If every future headline uses the phrase "<em>Rocky</em> Road," don't say you weren't warned.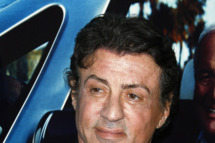 Most people view Spider-Man: Turn Off the Dark as a dangerous, flawed production that nearly destroyed several careers and spines. Needless to say, Sly Stallone is not most people, because where others see mediocrity and injury, he sees Spider-Man's impressive ticket sales. As such, he's going forward with Rocky: The Musical, co-producing with Wladimir and Vitali Klitschko, Ukrainian boxers and brothers (who are likely onboard to bring capital, but might also be Sondheim fans, who knows). While the Ragtime team are writing an original score, worry not — "Eye of the Tiger" will be included. It's an addition sure to satisfy fans and convince everyone else this is just a bizarre prank (Ukrainian boxing brothers?). Rocky: The Musical is set to open in Hamburg, Germany, next year.