Steve Carell to Star in Lunatics
Steve Carell to star in a movie about youth soccer gone horribly wrong.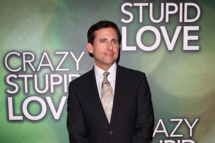 Comedy writers Alan Zweibel and Dave Barry lie on either end of the credibility spectrum — Zweibel is loved by comedy nerds, while Barry is adored by your dad. It's not surprising, then, that Lunatics, the novel they co-wrote, has such broad appeal that Universal has acquired it months before it's due to hit stores, and got Steve Carell onboard to boot. The novel is about two New Jersey soccer dads whose rivalry almost escalates to the point of world war, with Carell to star as the mild-mannered pet store owner/youth soccer ref who gets thrown in the middle. Lunatics will be published by Putnam in January, leaving you plenty of time to get a copy for Father's Day.